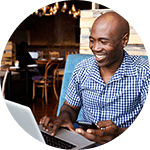 Turn your computer, laptop or tablet into your own comfy 24/7* branch. Securely view accounts, pay bills, send money and more using your web browser. Let's get you set up.
Concerned about your online security? We have you covered with our 100% Electronic Banking Guarantee. We'll reimburse you for any losses to your Personal Banking account resulting from unauthorized transactions, so you can bank worry-free. Visit our Security Centre to see all the ways we keep your account information safe.
Stay safe online
We suggest you change your BMO Online & Mobile Banking password and update your security questions every 90 days.
---
How to get started with online banking
If you have a BMO Debit Card or credit card, you can quickly and securely set up online banking.
---
FAQs for online banking setup
---
Now that you've set up online banking, take the next step
*Subject to interruptions in telecommunications or online systems or in power supply or any other factor beyond the control of Bank of Montreal.