CreditView - The free, instant way to get your credit score
Your credit score plays a big part of your financial health and now you can get it quickly and for free. We've teamed up with TransUnion to give you access to CreditView®, where you can get your free credit score, plus find tips on how you can improve it.
Why use CreditView®
Improve financial health
Easily understand the score factors affecting your credit score and get tips on how to improve it, so you have more control over your financial future.
No impact on credit score
It's your score and you should be able to see it when you want. Using CreditView will not affect your score.
It's free
If you're signed up for online or mobile banking, you can access CreditView anytime you log in, at no cost.
What you can do with CreditView?
Easy to understand visuals clearly show your score and how you compare with other Canadians. Plus see what's affecting your score and how it's changed over time.

Thinking of getting another credit card? Ready to pay off a balance? See how it could affect your credit score before you make any commitments.

Get a detailed picture of your borrowing history and activity in Canada, including a list of your active accounts, payment history and who's made inquiries on your credit information.

Increase your financial know-how and confidence with helpful info on credit, lending and more.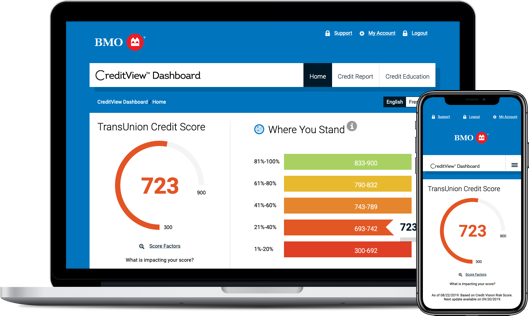 How to check your credit score
Seeing your score is as easy as signing into BMO online or mobile banking.
Online Banking
Click the Profile & Settings on the top right
Under the Profile section, select My Credit Score
Mobile banking app
Open the BMO mobile banking app
Tap the More menu
Scroll down and select My Credit Score under Your Settings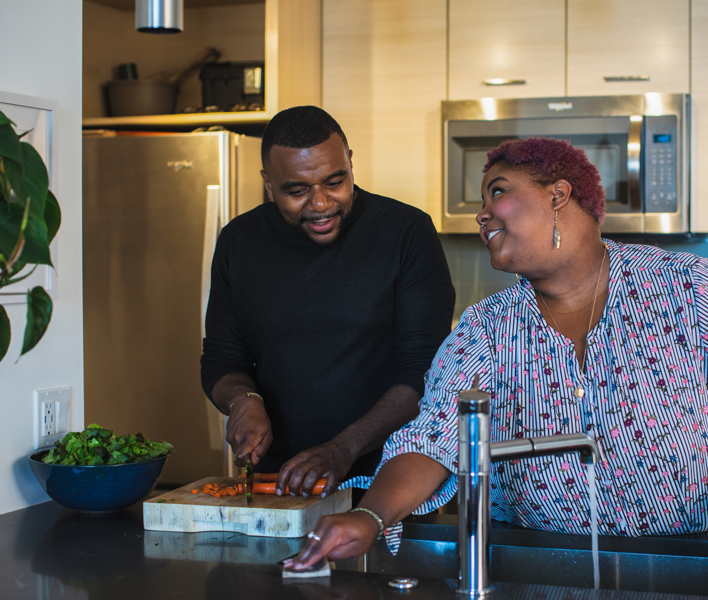 What is your credit score and why does it matter?
Why is your credit score so important? Well, if you're applying for a credit card, loan or mortgage, it's one of the key factors when a bank or other lender decides how credit worthy you are.
Your credit score can determine not only whether you get a card or loan, but also what interest rate you'll pay. As well, potential landlords, employers and insurance companies can also request a copy of your credit score and credit report.
So even if you're not planning on borrowing money right now, it's a good idea to see what shape your credit score is in and if you need to work on it.
Not a BMO customer yet?
Get free access to your credit score when you get a BMO bank account and sign up for online/mobile banking.
CreditView FAQs Frequently Asked Questions
While you can check your credit score whenever you like, you'll see updated credit information once a month. The dashboard will show when your score was last refreshed.

Not at all. Activities like applying for a credit card or loan are called 'hard inquiries' and will appear on your credit report and could impact your score. Using CreditView to look at your score is a 'soft inquiry' and doesn't affect your score.

Your credit score is a number that represents how creditworthy you are. It gives lenders an idea of how well you've managed financial obligations (e.g. paying bills, credit card use) in the past.

Your credit report may include your credit score along with other details of your borrowing history (accounts, payments, delinquency, collections items, etc.).

For now, CreditView is only available if you sign into BMO online banking with your debit card -- you can't access it using a BMO credit card.To get a BMO debit card, you'll need to open a bank account. You can explore the accounts we offer and apply online today.
Helpful credit advice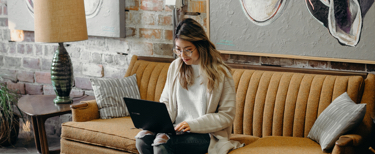 It may not always feel like you have the power to improve your credit score, but you can do it with the help of these tips.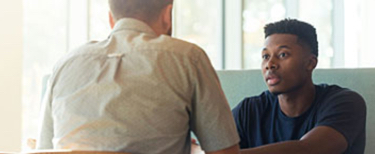 Looking to make a large purchase or consolidate debt? Increase your chances of getting approved.
CreditView is a service provided to you by TransUnion. Using this service does not impact your credit score. This service is being made available to you as a customer of BMO ("Bank of Montreal") at no additional charge.

CreditView is a trademark of TransUnion LLC.