Your security is our priority. That's why we work hard to bring you the fast, convenient personal and business banking experiences you've come to expect, while applying advanced security measures– so you can make real financial progress with peace of mind.
BMO Digital Banking Security Guarantee*
We will reimburse you for any losses to your personal bank accounts from unauthorized transactions, as outlined in our Electronic Banking Services Agreement.
Security however you bank
Be confident that your private details are protected across all of our banking platforms.
Online banking Bank online knowing that all info you exchange with us over the internet is secure.
Mobile banking Protect your mobile device and identity from scammers while banking through the BMO mobile app.

ATM banking

Deposit or withdraw at BMO ATM with the confidence that if anything goes wrong, we're here to help.
Telephone banking Make a transaction safely by phone with voice recognition and a unique PIN to confirm your identity.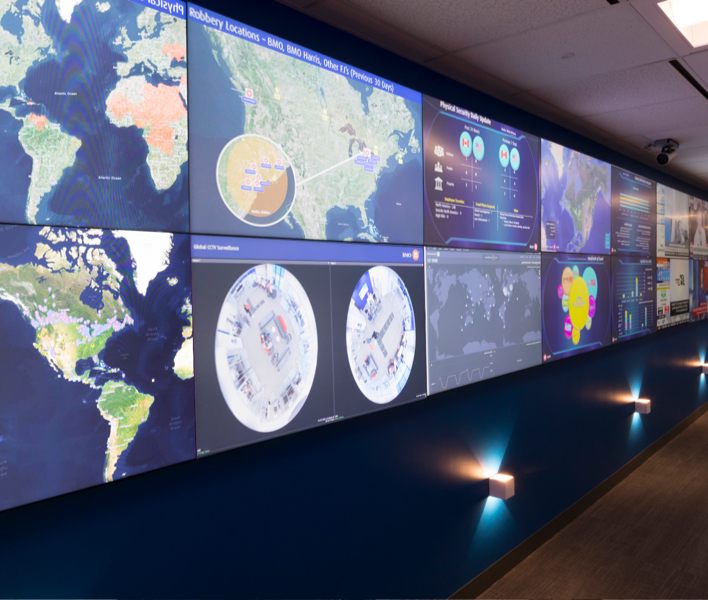 Setting the standard for bank security
Your security is important to us. That's why we go above and beyond to protect you. Our Financial Crimes Unit (FCU) is a security operations team that's the first of its kind in Canada. 
Founded in 2019, the FCU combines world-class expertise from our cyber security, fraud, physical security, and crisis management teams to detect, prevent, respond to and recover from security threats.
Our security features include:
Leading-edge security technology, data and analytics tools.
Operating on a global scale to ensure your safety in different time zones without delay.
Managing security threats whenever and wherever you bank.
Strong internal controls like firewalls and email security software.
Frequent employee training on the best and latest security practices.
Free security software for your devices
Add an extra layer of safety to your account by installing security software from our trusted tech partners at no cost to you.
IBM®Trusteer Rapport® to secure your desktop browser.
OnGuard® to protect your identity online.
Interac® verification service to confirm your identity when you sign up for new services.
FAQs Frequently Asked Questions
The BMO app has multiple security features designed to protect you:

All info sent and received through the BMO app is encrypted to avoid third-party security risks.

The app doesn't store any confidential info (or cookies) on your mobile device.

Any data sent to your mobile device through the app is free from harmful software like viruses.

Be sure to download banking apps from a trustworthy app store to avoid installing fake apps onto your phone.

Firewalls are a type of security software that monitors activity coming in and out of your device or network. They're the first line of defense against security threats because they block unauthorized devices and networks from accessing yours, protecting your info and identity.

You will receive encrypted emails about your account from a bmo representative through our Message Center. All emails are sent from notification@secureportal.bmofg.com.

Remember: we will never send you an email asking you to provide personal or confidential information (such as your debit or credit card number, passwords or identification such as Social Insurance Number or Driver's Licence).

If you receive a suspicious email saying it's from BMO, don't reply or click on any links. Instead, forward the suspicious email as an attachment to phishing@bmo.com then delete the message from your inbox immediately.

 

OnGuard®footnote dagger† helps customers detect identity theft sooner by making them aware of where and how their personal information is being used. OnGuard helps to guard against identity fraud both online and offline through:

Online identity monitoring
Financial identity monitoring
Identity alerts
Card cancellation and replacement concierge

Identity restoration

OnGuard Identity Protection is a complimentary service offered to eligible BMO customers with the Performance and Premium Plans*74. 
BMO Digital Banking Security Guarantee*
*For terms and conditions of the BMO Digital Banking Agreement, refer to the Electronic Banking Services Agreement, which is part of the Agreements, Bank Plans and Fees for Everyday Banking booklet, available online at bmo.com/agreements  and at BMO branches.