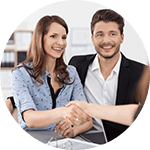 You like being in control of your financial future and making the big decisions. But sometimes you'd like to bounce around ideas with someone in the know. Feel confident about your portfolio picks with advice from a BMO Investment Professional. We can clarify the options and strategies available to you.
Have an investment professional contact you
Stay safe online
We suggest you change your BMO Online & Mobile Banking password and update your security questions every 90 days.
---
How an Investment professional can help you
Benefit 1
Advice. There's a lot of information and choices out there. With our investment knowledge and experience, we can offer clear insights and recommendations, help set goals, explore options, and build a plan.
Benefit 2
Service. Life moves pretty fast. Careers advance. Families change. Markets shift. What worked last year may not be right today. We'll do portfolio reviews and suggest adjustments to keep your investments working their hardest.
Benefit 3
Access. Keeping you informed and updated lets you feel confident your portfolio is on the right track. When you have questions or concerns, your BMO Investment professional is there for you in person, by phone or online.
---
FAQs
What can I talk to an Investment professional about?

There are many investment products and options out there to consider. A BMO Investment professional has the knowledge and investment experience to discuss your choices, including:

RRSPs
TSFAs
BMO mutual funds, GICs & ETFs

RESPs
Registered Disability Savings Plans (RSDP)
General investment advice

What other investment help does BMO provide?

Along with one-on-one advice, BMO offers online resources such as newsletters, webcasts, seminars and more to help keep your investment knowledge up-to-date. Ask your Investment professional for more details.
---