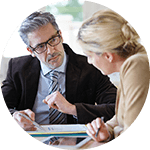 What are you saving for? A home, post-secondary education or retirement? Let a BMO Financial Planner help get you there. We'll work with you to create a unique plan to help reach your goals.
We can help you plan for:
retirement
major purchases
education
savings and investing
estate
Have a financial planner contact me
Stay safe online
We suggest you change your BMO Online & Mobile Banking password and update your security questions every 90 days.
---
How can a Financial Planner help me
Benefit 1
Getting to know you. Let's start with a chat. We'll talk about your needs and goals, both now and for the future. We'll also engage you in the planning process and agree on how you prefer to be involved and contacted.
Benefit 2
Reviewing the numbers. To build a plan for your future, we need to understand your current finances. By going over your assets, liabilities and spending, we'll get a clear picture of where you are today.
Benefit 3
Creating the plan. From the information we gather, we'll put together a plan for you. It's a roadmap that outlines your path forward, offering different ways to help reach your goals.
Benefit 4
Living the plan. You're on your way. But it's not time to say goodbye. Life happens, and situations and goals can change. We'll revisit your plan from time to time and fine-tune things to keep you on track.
---
FAQs
How much money do I need to work with a BMO Financial Planner?

We work with people who have a minimum of $100,000 in investible assets.

What information do I need to provide to get started?

To understand your current finances, please bring the as many of following to your first meeting:

Investment statements (RRSP, RRIF, RESP, TFSA, Non-registered, etc.)
Net worth statement (list of property assets and liabilities)
Employer pension statement and/or Individual Pension Plan statement
Canada Pension Plan (CPP) or Quebec Pension Plan (QPP) statement
Personal loan, mortgage and/or line of credit statements (including the most recent statement)
Personal budget (list of income and expenses)
Most recent Notice of Assessment and/or T4
Life insurance policy
Power of attorney, wills and other relevant legal documentation
If you have a financial plan that was created in the past, please bring that as well

Do I need to visit a BMO branch to work with a Financial Planner?

You can start the process by calling us or having a Financial Planner

contact you

. Then you can decide if you'd like to meet in person or discuss your plan through email. You may still need to visit a branch to sign documents in person.
---