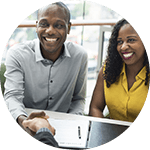 Whether you're buying your first home or your next property, the mortgage process can seem overwhelming. A BMO Mortgage Specialist can help with personalized expert advice and a customized home financing plan. We'll meet when and where you want, to guide you through the entire mortgage process.
Find a Mortgage Specialist
Stay safe online
We suggest you change your BMO Online & Mobile Banking password and update your security questions every 90 days.
---
How a Mortgage Specialist can help you
Benefit 1
We'll meet at your convenience. Whether you want to talk in-person or over the phone, at home or at a coffee shop, day or night, your BMO Mortgage Specialist will accommodate you.
Benefit 2
We know you don't have time to wait. Between work and home life, time is precious. When you reach out to a BMO Mortgage Specialist, we'll be ready with expert advice.
Benefit 3
We offer pressure-free advice. No commitment needed. Just free advice on one of the biggest purchases of your life. We'll help you find the best option for your needs.
---
FAQs
When should I speak to a BMO Mortgage Specialist?

At any time! Whether you're ready to discuss your current financial situation for a future purchase, start the pre-approval process or secure financing after you've put in an offer on a home, a BMO Mortgage Specialist can help guide you through your home-buying journey.

My situation is unique. What types of customers does a BMO Mortgage Specialist work with?

A BMO Mortgage Specialist can provide advice tailored to your specific needs. We help a range of people looking to:

buy their first home
switch their mortgage from another financial institution
buy their next home

refinance their current home
buy a home as newcomers to Canada
and more, just ask

I'm a real estate professional. How can I work with a BMO Mortgage Specialist to help my clients?

A BMO Mortgage Specialist is ready to help turn your clients' dreams of home ownership into a reality. We can offer competitive rates and provide a wide range of home financing solutions to meet every client need. And we'll meet whenever and wherever it's convenient for you and your clients.

Plus we can help you grow your business by expanding your network and diversifying your client sources.
---