Helping you bank the way you want.
24/7 Banking
How to set up BMO Online Banking
Setting up Online Banking allows for secure, 24/7 access9 to check your balances, pay bills, transfer money and more. You're protected with our 100% Electronic Banking Guarantee.
I have a new BMO debit card
Set up online banking for your debit card
I have a new BMO credit card
Set up online banking for your credit card
---
How to sign in to BMO Online Banking
Sign in to Online Banking through our secure page


---
BMO Mobile Banking
Quickly and easily manage your money with our BMO Mobile Banking app.
Quickly view balances and transactions on any of your accounts with a swipe of a finger
Transfer funds between eligible accounts and send and receive an Interac e-transfer®§to anyone on your recipient list
Pay bills now or later through future dated bill payment
View credit card, recent transactions, eStatements, due dates and minimum payments
Make a branch appointment in real time
Assign nicknames to your most used debit or credit cards to sign in quickly and securely
Search for nearby BMO branches and ATMs
Touch ID access to the BMO Mobile Banking App on iPhone* 5S, 6 or 6 Plus.
Simply download the app from your app store to use BMO Mobile Banking. For other touch devices that do not have an app, you can access the BMO Mobile Banking through your browser by entering m.bmo.com.
Travel notifications are no longer required
BMO uses advanced fraud detection systems to protect our customers from unauthorized transactions in Canada and around the world. Our fraud detection systems along with CHIP and PIN technology keep our customer's credit card information secure while they are travelling.
BMO® InvestorLine App
Now, experience BMO's tablet app for iPad‡‡ to help you easily manage your self-directed investing needs.
BMO InvestorLine™
View your self-directed investing account information
Access real-time quotes and interactive charts
Trade equities, ETFs, options, mutual funds and GICs
Want to do your self-directed investing in addition to banking with BMO? It's easy. Open an account today.
Mobile Wallet
Google PayTM
BMO brings you a secure and convenient way to pay using your phone and your BMO credit or debit card.  Simply download the app from Google Play, add your BMO credit or debit card and start tapping at merchants that accept contactless payments!
Apple Pay‡‡
Pay at the register or for in-app purchases quickly, easily and securely with your BMO debit and credit cards using your Apple‡‡ device.
BMO Branch Banking
With over 900 branches across Canada, we offer a full range of financial services.
Product Services
Open new bank accounts, add or change Bank Plans
Access to on-site full service ATMs to handle everyday banking transactions
Apply for BMO MasterCard® credit cards
Find information on and apply for loans, mortgages & lines of credit
Access to mutual fund investment advice available through partner referral8
BMO Telephone Banking
Access a wide range of financial services and products from anywhere you have access to a telephone, 24 hours a day, 7 days a week by calling
1-800-363-9992 1-800-363-9992.9 In addition to your day-to-day banking, such as paying bills, transferring funds, obtaining account balances, and a listing of recent transactions, use telephone banking to:
Open new bank accounts
Change your contact information
Request a stop payment
Re-order cheques
Set up consolidated paper statements
With Voice ID, you can confirm your identity simply by talking with our customer service team. Learn more about Voice ID.
BMO ATM Banking
BMO ATMs give you convenient access to cash withdrawals, up-to-the-minute account balances, deposits, transfers, electronic bill payments, and you can also get a printout of your most recent transactions.
You can use your BMO Debit Card to withdraw cash at BMO Cash ATMs, any ATM in Canada with the Interac®‡ symbol and throughout the world at any ATM with the Maestro®* or Cirrus®*.
All of our BMO ATMs have audio capability to help customers with vision loss complete their banking transactions.
Find the nearest one with the Branch/ATM Locator in our BMO Mobile Banking app.
Managing Money
Direct Deposit
Save yourself a trip to the branch or ATM and get immediate access to your money with direct deposit. Enjoy automatic deposits of funds (e.g. your payroll deposit and government payments) into your personal bank accounts. To set up direct deposits for payroll, download the BMO Direct Deposit form and follow the instructions.
Please Note:
All Federal Government payments by cheque, such as income tax refunds, GST rebates, Child Tax Benefit and Old Age Security are in the process of being phased out and will soon be available only by Direct Deposit.
To set up Direct Deposit for Government of Canada payments:
Download the Government of Canada Direct Deposit form,
Visit your local branch, or
Speak to a representative at our Customer Contact Centre at 1-877-225-5266. 1-877-225-5266.
For more information, visit www.directdeposit.gc.ca
Bill Payments
Pre-Authorized Payments
With Pre-Authorized Payments, you can set up your bills to be automatically paid from your BMO bank accounts on their due dates. You'll never miss a payment – even when you go on vacation.
To set up this service you'll need your bank account number, institution number and branch transit. You can contact the billing company and follow the instructions that they provide or download the Personal Pre-Authorized Debit Plan form and follow the instructions.
PowerSwitch®
BMO® PowerSwitch is a free service that helps you transfer your Pre-Authorized Payments from a different financial institution and set up new Pre-Authorized Payments from your new BMO chequing account and credit card.
Let PowerSwitch do the work for you
Set up new Pre-Authorized Payments.
Transfer your current automatic Pre-Authorized Payments to your new BMO account. This could include everything from utility bills and condominium fees to gym memberships and more†.
Notifies your Pre-Authorized Billers of your switch so you don't have to†.
Make changes to your BMO credit card Pre-Authorized Payments due to lost, stolen, or expired credit cards in one location.
How to make the switch?
Simply use BMO Online Banking and provide the details of your Pre-Authorized Payment. PowerSwitch will do the rest for you.
† Some billers, including financial institutions, do not accept the use of PowerSwitch service for transfers, including pay cheques. Financial institutions that do, may request confirmation of the transfer from the customers.
Overdraft Services
Overdraft protection is a simple way to cover unexpected shortfalls in your account and avoid the potential embarrassment of a declined transaction or the cost and inconvenience of a returned cheque.
Standard Overdraft Protection is best suited for you if your bank accounts tend to go into overdraft once a month or more.
Coverage available from $250 to $2,50011
Your account must have monthly deposits and a positive balance at least once every 90 days
A $5.00 monthly fee applies11,12
Occasional Overdraft Protection (Not available for residents of Quebec) offers peace of mind if your accounts do not regularly go into overdraft.
Coverage available from $250 to $2,50011
Your account must have monthly deposits and a positive balance at least once every 90 days
There is no monthly fee. A $5.00 fee per transaction applies11,12
With Overdraft Transfer Service you can pre-arrange to have available funds transferred to your BMO account from one of your other BMO accounts, your BMO credit card or your BMO line of credit to cover any accidental overdraft13. A fee of $5 per transfer applies.14
BMO Debit Card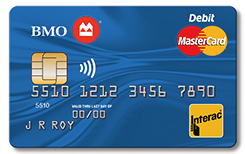 The BMO® Debit Card and BMO Debit Card for Business allow you to make purchases directly from your bank account in more ways. Interac Flash®† lets you pay faster for small purchases.40 And with Debit MasterCard®*, you can shop online or at international retailers, and pay directly from your bank account.
Debit MasterCard: wherever Debit MasterCard is accepted you can use your debit card to shop online or by telephone. You can also take your card with you when you travel abroad. The Debit MasterCard feature allows you to shop in-store outside of Canada, wherever MasterCard is accepted41
Interac Flash: Our debit cards are enabled with Interac Flash®†40, allowing you to pay quickly and securely in-store for purchases under $100. Simply hold your card to the terminal, no need to insert your card or enter your PIN.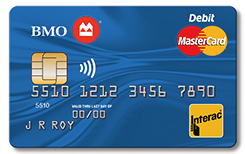 Security
You can confidently shop with your BMO Debit Card knowing you are protected from the unlikely event of unauthorized activity on your account.42 Our debit cards are equipped with the following security features:
Embedded microchip that stores your information in a secure, encrypted format
A single Interac Flash purchase can't exceed $100, and there is also a $300 cumulative spend limit. Once this limit is reached, you'll be asked to insert your card and enter your PIN to complete the transaction.
Debit MasterCard is protected with the same safety and security features we offer on all our BMO MasterCard credit cards. Learn more
To get a new BMO Debit Card, visit a branch or call us at 1-877 CALL BMO (225-5266).
Have more questions about the BMO Debit Card or BMO Debit Card for Business? Visit our FAQs page to learn more.
®† Interac, Interac Flash and the Interac logo are trademarks of Interac Inc. Used under license. The Contactless Indicator is a trademark of EMVCo. LLC. Used under license. ®* MasterCard and the MasterCard Brand Mark are registered trademarks of MasterCard International Incorporated. Used under license.
BMO Family Bundle
You and everyone in your household can have your own unlimited chequing account and pay only one single monthly plan fee.
Treat your family to no-fee banking† and unlimited‡ transactions! BMO Family Bundle lets Performance or Premium Plan chequing account customers invite all† their family members to open their own separate chequing account but without the monthly fee.
So for each new account you open, your family can save between $203 and $360 a year.†,‡
More benefits:
Each new account includes unlimited‡ transactions and Interac e-transfers®§‡
Everyone keeps their privacy; only accounts in your name can be viewed by you
You can choose whether you want the new account to be an individual or joint
Learn more about BMO Family Bundle.
Already a customer? Visit a branch with your family to open their own Performance or Premium chequing account and ask to have Family Bundle activated.
New to BMO? Visit a branch to open a Performance or Premium chequing account now.
†Family Bundle option is only available for parents, grandparents, children, grandchildren or spouse/ partner (either married or common-law) who reside in the same household as the customer with a Lead Account on an eligible Bank Plan. "Lead Account" is the one you designate to pay a standard fee per month for eligible Bank Plans (Performance: $16.95/month, Premium: $30) unless a minimum balance is maintained, in which case the Bank Plan fee is waived. Note that the balance in a family member's account does not count toward the minimum balance for the Bank Plan fee waiver. Family Bundle option may be added at no additional fee and is capped at 20 accounts (held jointly or individually) in Canadian or U.S. dollars per eligible Bank Plan. Family Bundle option is not available on Practical Plan. For full terms and conditions please refer to our banking agreements.
‡Both Performance Plan and Premium Plan Chequing Accounts offer an unlimited number of transactions and Interac e-transfers®§ per month provided the daily Interac e-transfer®§ total does not exceed $3,000. Transactions include everyday banking transactions at a BMO branch, BMO ATM, BMO Telephone, BMO Online and BMO Mobile and Tablet Banking, debit card purchases, cheques drawn on your account and Pre-Authorized Payments. Family member accounts mirror the Bank Plan of the Lead Account, so for example if the Lead Account is on the Performance Plan then family member account will also be on the Performance Plan. Other service and product fees may still apply.
®§Interac e-Transfer is a registered trademark of Interac Inc. Used under license.
Security
You can confidently shop with your BMO Debit Card knowing you are protected from the unlikely event of unauthorized activity on your account.
Chip Technology
BMO® debit cards are more secure than ever thanks to chip technology. Chip debit cards contain an encrypted microchip that is extremely difficult to counterfeit. Your personal identification number (PIN) provides even more protection.
You can further protect yourself from fraud by not sharing your PIN. Learn more at the Financial Consumer Agency of Canada.
Account Statements
Track your spending, saving, lending and investing with ease. All BMO statements give you the detailed information you need to take charge of your money.
eStatements
Stay on top of your finances with BMO eStatements. eStatements are an exact replica of your paper statements and are securely accessible through Online Banking from anywhere at any time. See your transactions in online banking without having to wait for your paper statements to arrive. Plus, sign up for BMO Alerts to know when your statement is ready for viewing.
Securely view and store your personal banking, credit card, line of credit, and mutual fund account statements online
Register for eStatements through BMO Online Banking
Consolidated Paper Statements
Get a consolidated summary of all your account balances, including a detailed list of your transaction activity, reported separately for each account
Includes banking news, information and tips to improve your banking efficiency
A paper statement fee may apply
Account Services
Transfer Money
Whether you're sending money across Canada or overseas for personal or business reasons, money transfers are simple and convenient with BMO Money Transfer Services. Our reliable technology means you can send money confidently almost anywhere.

You can send, receive or request money using Interac e-Transfer®§. All you need is an email address and a Canadian bank account.
For example, you can:
Receive payments instantly. Register for Autodeposit and you can get your money even faster.

footnote star star

Get money right to your account. If the sender has your account number, the deposit can be made directly - no security question and answer required.

footnote star star

Remember to only share your account info with people you trust.
Get more of your money faster. Receive up to $25,000 at a time.

footnote star

Split bills with your partner or roommates.
Pay a business or contractor for work they've done.
Send requests to friends for their share of expenses for a camping trip.
You can send FREE**footnote star star, unlimited Interac e-Transfer®§ transactions! All BMO® Personal Everyday Bank Plans now include unlimited Interac e-Transfer transactions***footnote star star star.
Sending money with Interac e-Transfer is simple. Need a refresher? Learn more
Register for Autodeposit and money you receive by Interac®§ e-Transfer will be automatically deposited into your BMO bank account – no need to sign in or answer a security question. Learn more.
You can request money from anyone who uses Interac e-Transfer®§. Once your contact accepts your request and sends you money, you'll receive it directly in your account. You can also get requests for money from people – either accept or decline them by selecting the appropriate option in the email notification. Learn more.
Get started by signing in to BMO Mobile or Online Banking today. Sign in.

Don't have the BMO Mobile Banking App? Download it now.
*footnote star detailsThe daily, weekly and monthly rolling limits no longer apply for incoming e-Transfer payments. Receive e-transfer payments of up to $25,000 at a time as long as the sender's bank allows limits that high.
**footnote star star detailsSubject to the sender's bank having these capabilities enabled.
Check out all of our eligible Plan options here.
***footnote star star star detailsThe $1.00 service fee that may have applied when you use Interac e-Transfer has been eliminated for customers with an Everyday Bank Plan. The monthly Plan fee may still apply. Other transaction fees may apply if you have a Bank Plan that does not include unlimited everyday banking transactions. A cancellation fee may still apply when you cancel the transaction.
Wire Transfers
Our wire payment service is a quick, convenient and secure way to send and receive money.
To send money, visit a BMO branch with the recipient's name, address and bank account number, along with the name and address of their financial institution.
To receive money, provide the sender with your BMO customer information.
For information on wire transfer fees, please refer to the Agreements, Bank Plans, and Fees for Everyday Banking.
Please visit your branch to know more about applicable fees for in branch wire transfers and Global Money Transfer Products.
Western Union®# Money Transfer™#
We offer Western Union®# Money Transfers™# via Interac e-Transfer®§, through BMO Online Banking
Available to personal banking customers, the Western Union®# Money Transfer™# service allows you to send money within Canada and abroad to more than 200 countries and territories connected to the Western Union®# network.
Western Union transaction fees are $5 plus 1% of the CAD equivalent transaction amount.
Money transfer fees and exchange rates are determined by Western Union at the time of the transaction and will be clearly displayed. The amount debited from your account includes the principal amount and Western Union transfer and foreign exchange fees.
BMO Alerts
Keep you informed and up-to-date on your personal banking transactions. Simply sign up for BMO Alerts and get the information you need, when you need it. Receive alerts by email or to your smartphone16 to find out when:
Your account balance falls below your specified amount
A withdrawal greater than your specified amount is made
Deposits greater than your specified amount are made
Unusual activity on your BMO Debit Card is suspected
Your eStatement is ready to be viewed
Ordering Cheques
For Chequing accounts only: Ordering cheques is easy and you can choose from a variety of designs and features to customize your cheques the way you like.
Online: Sign in to BMO Online Banking and select the account that you would like to order cheques for in the left hand navigation. Click on 'Order cheques' in the sub-menu that will appear. Then follow the instructions provided.
In person: Visit your local BMO branch
1-877-225-52661-877-225-5266 to speak with one of our customer service representatives
-->
Travel Services
Travel Insurance
Protect yourself, your family, your trip and even your luggage against emergencies, cancellations, interruptions and delays.
BMO Prepaid Travel MasterCard®
Get the convenience of cash, without having to carry cash. You can safely access funds wherever you are without interest charges.
Foreign Currency
Purchase more than 60 different currencies through BMO to save on fees and surcharges when travelling.
Take advantage of fair exchange rates that are often better than airport and foreign exchange outlets
Avoid searching for banks and currency exchanges while abroad
You can order up to $2,000 (Canadian) in U.S. dollars, British pounds sterling or Euros and have the funds delivered to you within 7 business days (courier fees apply).
To order foreign currency log into on-line banking or contact your local BMO Branch.