Marketing on a budget: 8 small business tips and advice
Your customers are waiting to hear about you! Here are a few strategies for planning a sucessful marketing campaign that won't put you in the red.

It's a common challenge: you want your business to take off, but you lack the cash to fund a big marketing campaign. Have no fear! In this day and age, you don't need a big budget to do some big marketing.
1. Start with a plan
Coming up with a good marketing plan on a budget begins with your goals and ends with an assessment of your success in meeting those goals.
Outline your business goals. Do you want to drive sales? Expand to new markets?

Identify your target market. Who is your target audience? What do you know about them and what do you need to know? How can you reach them? Social media? Which platforms? Email?

Identify your competition. What's your competitive advantage? How can you use it to edge out your competitors?

Gather your resources. What time and money can you dedicate to your marketing? What marketing resources are you already using?

Create a promotional plan. How will you get your message out? Which of these tools will help achieve your goals: advertising, packaging, internet marketing, sales promotions, marketing materials, publicity efforts?

Assess your data. Start with a baseline. If your plan is to improve sales, know your current sales and reassess your sales data after your marketing plan has been in place for a month. Continually reassess and adjust as necessary.
2. Create a buzz
Social media marketing is a cost-effective strategy, but it needs to be carefully targeted. Facebook, Twitter, Instagram, Pinterest, LinkedIn and others all offer something a little different, so you may want to leverage more than one platform. Know where your potential customers are; for example, 84% of online Canadians use Facebook, but 46% are on LinkedIn, a more business-centric network. Use the built-in data analytics tools on most sites to easily track the progress of your campaigns. For more tips about promoting your business on social media, check out 5 ways to build a profitable online business.
3. Be easy to locate
Make your business easy to find online by leveraging keywords on your website for search engine optimization (SEO). Invest in a mobile-friendly site. If you have a physical presence, create a geotag for your location for mapping apps and provide a Google map on your website. Look to website creation services such as Wix or Squarespace to help you build inexpensive and easy-to-use sites. Many of these sites also cover your website's hosting costs so that you can maintain your business's unique domain name at minimal expense.
"Social media marketing is a cost-effective strategy, but it needs to be targeted."
4. Create a brand
Use logos, slogans and content marketing to build your brand and help you create a unique brand identity. Create your own blogs, e-books or video content, highlighting the kinds of products or services you offer. For example, to build your new plumbing business, record and post videos of easy do-it-yourself plumbing projects that potential customers can tackle. Build your business's name recognition so that customers know who to call for major work.
5. Build a community
Social media marketing can help you build your online community, but you should think local too. Volunteer, sponsor or participate in community events. Be a guest speaker. Try to get local news coverage for special events or newsworthy activities.
6. Start an email list
Add an easy-to-navigate sign-up form to your business's website so that you can collect customers' contact information. Then you can share expert tips and tricks with your customers, send periodic loyalty discounts or even offer referral incentives. If you can't keep up with responses, use free sites like Buffer to send out personalized, automated messages.
7. Offer incentives
Create coupons and distribute them locally and online. Offers such as discounts, free trials or samples can help you build your email database. If you're opening a yoga studio, for example, you can offer a free session to first-time customers.
8. Leverage your customer base
Ask for customer referrals, testimonials and reviews. Highlight these on your website and social media platforms and in your physical store. Loyal customers can be your best marketers, serving as brand ambassadors for your products and services.
Whether you're trying to build a brand or drive sales, marketing can help. And these tips show you that your marketing plan doesn't have to break your budget to be effective. Leverage the tools that fit best with your business to help you sell your goods or services.
Ready to start your business?
Talk to us about the solutions and support that can help you make the most of every business opportunity.
Related articles

If you think running a franchise might be a good option for you, consider both the pros and cons while learning how to get started.

Ready to bring your business onto the world stage? Here are ways for you to grow through importing and exporting.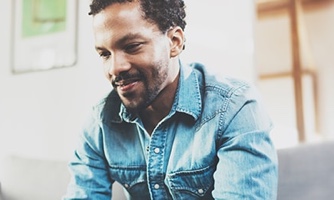 Now more than ever, social media plays a key role in small business marketing. Learning the difference between platforms can help tailor your strategy.