Illnesses or accidents can happen at any time, and they can come with an unexpected financial burden. If you're hospitalized anywhere in North America, Mexico and the Caribbean, you can rely on Guaranteed Hospital Cash health insurance for those unexpected costs associated with your hospitalization.
---
---
Benefits
Receive $25, $50 or $100 a day1 when you're hospitalized
Flexibility and freedom to use your tax-free daily cash benefit2 any way you choose
You're covered as soon as we receive your completed application
---
Key Features
Daily cash benefit paid directly to you for every day you are hospitalized1 following an accidentAccident means a sudden, unforeseen event happening by chance that occurs while the Policy is in force. or illness
If you're in the hospital for more than 30 days in a row, we pay your premiums for as long as we are paying you a daily cash benefit
Lifetime coverage, to a lifetime maximum of $50,000, as long as you continue to pay your premiums. The daily cash benefit amount decreases by 50% when you reach age 85
Guaranteed acceptance and immediate protection. No medical exam or health questions required to apply
Coverage that extends beyond just one visit. You can make a claim every time you're hospitalized3
Access to the Helping Hands®† program4
30-day free look. Cancel any time within the first 30 days with no further obligation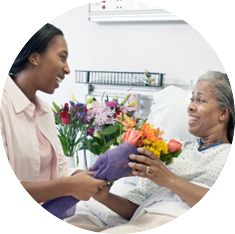 ---
Tools
---
What's not covered
You will not receive benefits if you provide false, incorrect or incomplete information during the application process.
This product will not cover you for an accident or an illness caused by a pre-existing condition A pre-existing condition is a condition for which you have received medical treatment or advice in the 12 months before your policy starts. in the first 12 months after your policy starts.
You will not receive benefits for any injuryInjury means bodily harm directly caused by an Accident and independent of all other causes. It does not include any sickness, illness, ailment, disease, medical disorders or medical treatments. or illness caused by or resulting from:
A self-inflicted injury
War or participation in active duty in the armed forces
Committing or attempting to commit a criminal offence
The use of drugs or the influence of alcohol
Air travel as a pilot or crew member or if you are not a fare-paying passenger
Normal pregnancy or childbirth
Elective surgery
A mental or emotional disorder
A diabetic or insulin-dependent condition
Epileptic seizure, delirium, depression or psychosomatic disorders
This information is only a summary. Actual terms, exclusions and limitations are explained in the policy.
---
Who qualifies
Canadian residents ages 18 to 80 can enroll
Your application won't be turned down
How to buy
Apply over the phone or online
Pay premiums monthly or yearly by credit card or automatic withdrawal from your bank account
---
---
---
Insurance issued by BMO Life Assurance Company
Up to a lifetime maximum of $50,000. The daily cash benefit reduces by 50% after age 85. The daily cash benefit becomes payable for any stay over 24 hours for up to 365 days per hospitalization.
Under current tax legislation. Any interest earned during the claims process may be taxable.
Daily cash benefit payable up to a lifetime maximum of $50,000.
®†Registered trademark of BMO Life Assurance Company. For full details refer to Helping Hands®†. Helping Hands services provided by Morneau Shepell.