Buy your dream home with aBMO jumbo mortgage
Our BMO Mortgage Bankers can guide you through the process.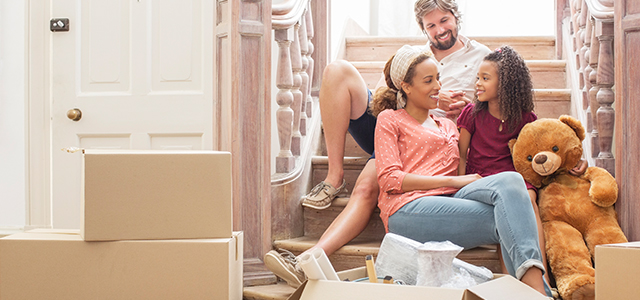 Buy your dream home with a
BMO jumbo mortgage
Our BMO Mortgage Bankers can guide you through the process.
---
---
What is a jumbo loan?
Jumbo mortgage loans may be necessary if you've got your eye on something big. That's because jumbo loans are for loan amounts greater than $726,200
Footnote 1 (basically, you borrow more than a standard mortgage).
Why is a BMO jumbo loan right for me?
With a BMO jumbo mortgage, you can enjoy big benefits. Our jumbo loans offer:
Fixed and adjustable interest rates
Low costs on closing
Extended rate lock program

Footnote 2

Up to 89.99% loan to value ratio
No Private Mortgage Insurance required
Special offers
Current offers
Get an interest rate discount of up to 0.625% on a jumbo mortgage for qualifying customers. Footnote 3
Five Steps to a Smoother Mortgage Process

Footnote 5
Prequalification
Prequalification
You need to:
Speak with a BMO Mortgage Banker

Share information about your income, savings, investments, credit history and debts
BMO will:
Inform you of the amount of the loan for which you prequalify and provide you a prequalification letter

Discuss products, interest rate options and closing costs

Identify the product(s) that best fits your financial needs and goals

Schedule an appointment for the application interview

Identify required documentation and the amount of the deposit needed to process your application
Tips
When you choose BMO for your mortgage financing needs, you'll have the resources of an experienced financial lender, as well as the assistance of a professional Mortgage Banker who will walk you through each step and help you understand the process.
Application
Application
You need to:
Provide basic information to your banker including your social security number, your income, loan amount, property address and value of the property to be mortgaged

Select a product

Receive and review the Loan Estimate sent by BMO. The Loan Estimate provides our good faith estimate of the interest rate on the loan, your monthly payments, closing costs and other items that help you decide if this loan is right for you.

Complete your mortgage application. This will include information about your employment history, income savings, investments, debts and the property you wish to purchase or refinance.

Confirm your preferred method for communication and receipt of documentation

Review the Consumer Financial Protection Bureau (CFPB) Your Home Loan Tool Kit that we send you. Review and sign the application documentation.

Provide your intent to proceed and submit your application and application deposit. Your intent to proceed must be received before your application deposit will be accepted.
BMO will:
Determine who should be contacted to gain access to the property and the best time to schedule the appointment with the appraiser

Identify any additional documentation that may be required to render a credit decision

Deliver the complete application package to the BMO mortgage application processing team
Tips
While we will provide you with a Loan Estimate based on preliminary information, we will need additional information to further process your request, including:
Realtor and attorney contact information
Documentation about your income such as salary, earnings and wages (for example W-2s, alimony, investment income, social security)
Most recent two years' federal income tax returns
Verification of employment if employed
Most recent three months' bank and investment statements — all pages
Purchase contract and any and all addendums for the property you are buying
Processing
Processing
BMO will:
Identify any additional documentation needed to process the loan and render a credit decision— confirm how and when it will be received

Order the appraisal, flood certification, title commitment and private mortgage insurance certificate

- The appraisal will be completed by a state-licensed and/or certified appraiser

Send you a copy of the appraisal
Tips
Once the appraisal is complete, the application can move into the next step of the process. Ensure that your appraisal appointment is scheduled promptly and kept as agreed. Promptly provide BMO with any additional documentation required to render a credit decision.
Underwriting
Underwriting
BMO will:
Review all employment, income, savings, investments and debt

Compare information on the application to paystubs, W-2 forms, tax returns, bank and investment statements, etc. to determine that sufficient income and funds are available for down payment, closing costs and reserves

Review the credit report to determine outstanding debt, payment history and your current credit score

Review the appraisal to confirm the market value and determine if the property represents sufficient collateral for the loan

Determine that qualification requirements are met to approve the loan

Deliver the Commitment Letter and identify any closing conditions, if the loan is approved

Provide updated regulatory disclosures
You need to:
Secure and provide evidence of homeowners (or "hazard") insurance and flood insurance (if required) coverage for the property being purchased or refinanced

Review, sign and return any applicable documents or disclosures that are provided to you by BMO
Tips
When you receive the Commitment Letter, updated regulatory disclosures if applicable and appraisal, please review these documents. Identify any conditions required for closing. The loan can be scheduled for closing once BMO has received all required information.
Closing
Closing
BMO will:
Review and confirm all loan terms and closing conditions

Identify a convenient date, time and location for the closing

Schedule the closing with the title company

Order pay-off letters, subordinations, releases, etc. and clear all closing conditions

Send your Closing Disclosure for your review at least three business days prior to closing

Prepare and deliver the closing documents to the title company and coordinate final figures for closing; wire the loan proceeds to the title company

Provide information on final funds needed for closing and the method of payment required
You need to:
Attend the closing at the BMO branch or title company as scheduled and sign all mortgage and legal documents

Provide final funds for closing if required. This information will be detailed in the Closing Disclosure.
Tips
When you attend the closing, bring a legal form of identification (driver's license, state I.D., passport, etc.) and the necessary final funds in the form of a cashier's check or secured funds
Confirm with your Mortgage Banker or the title company if funds will need to be wired from your bank to the title company's bank
Compare the Closing Disclosure to the Loan Estimate
Contact your Mortgage Banker in advance of the closing if you have any questions
---
Discover how easy it is to apply online
Our online application is a quick and easy way to apply for a mortgage. You can access your application from any device, upload documents and check your loan status, getting notifications throughout the process. Watch this video to learn how fast, simple and secure your application can be.
Play video
​​Helpful tips and advice for homebuyers
---
Payment methods
We offer a range of payment options to help you conveniently make your payment on time, every month. Each is safe and secure

Footnote 8 — just choose what's easiest for you.
Auto pay

Footnote 4

from your BMO checking account
In person at your choice of 600+ BMO locations
By mail
---
---
Calculators
Compare loans and crunch the numbers with our calculators

Footnote 6,7 .
FAQs
---
footnote * details,Special offers are subject to change. To receive a 0.125% rate discount, you must authorize BMO to withdraw your loan payment each month from an eligible BMO checking account using Auto Pay. Rate discount of 0.125% with Auto Pay from your BMO Smart Money Checking account, BMO Smart Advantage Checking account, BMO Select Checking account, BMO Relationship Checking or BMO Portfolio Checking account. Housing Finance Agency, FHA, VA, and State Bond Program loans are not eligible for the interest rate discount but will receive a $500 closing cost discount if eligible.
Footnote 1, details

Jumbo loans are loans greater than

$726,200

. Loan limits are subject to change.

Footnote 2, details

Certain restrictions and fees may apply.

Footnote 3, details

Applicant must meet one of the eligibility requirements in to order to receive the relationship pricing discount: New or existing BMO client with at least $100,000 in BMO deposit accounts discount of up to 0.625% (including trust accounts titled in the name of the Applicant) at the time of closing after all related closing costs have been applied. Housing Finance Agency, FHA, VA, and State Bond Program loans are not eligible for the interest rate discount.

Footnote 4, details

Auto Pay means periodic scheduled payments automatically deducted from your BMO checking account, as applicable, to pay the loan. When you sign up for Auto Pay, you authorize the Bank to draw your account for all amounts then due, including any late fees and any other charges. Checking account opening subject to bank approval.

Footnote 5, details

This is an overview of the general steps to the mortgage process. This is not a complete description of the mortgage process, and there may be other requirements that apply. This information is not intended to be tax or legal advice. BMO does not provide tax or legal advice and you should consult your tax or legal advisor for tax and legal advice. The Consumer Financial Protection Bureau offers additional home buying resources. You may visit http://www.consumerfinance.gov/owning-a-home/loan-options/ for more information.

Footnote 6, details

Calculator is provided by Leadfusion Inc., which is not affiliated with BMO. The calculator provides estimates. We do not guarantee their accuracy or applicability to your circumstances. Results depend on many factors, including the assumptions you provide. Leadfusion may have different privacy and security standards than BMO. Visit its website at www.leadfusion.com to review its privacy policy.

Footnote 7, details

You should always talk to your BMO Mortgage Banker to determine the product that is right for you. The calculator headings are merely labels for your convenience. The calculator results are estimates only and should not be construed as advice or a recommendation.

Footnote 8, details

Visit the BMO Security Center for details.

Footnote 9, details

Certain conditions and limitations apply. Digital Banking Guarantees apply to personal accounts only and do not apply to commercial or business accounts. Please see the BMO Digital Banking Agreement found at bmo.com/en-us/legal for full details.

Footnote 10, details

Message and data rates apply. Please contact your wireless carrier for details.

The

Secure and Fair Enforcement (S.A.F.E.) for Mortgage Licensing Act protects consumers. This nationwide licensing and registration system provides accurate, accessible information about lenders and their employees.
Apply for your Mortgage now!
Here's all you need to get your application started:
Your Social Security Number
Details on your assets and income
We'll guide you through the rest.
A mortgage banker will be available throughout the process to answer any questions you have and will follow up after you have submitted your application.
---
Give us a call
Give us a call to ask us any questions or apply by phone.
Mon - Thu 8 a.m. - 7 p.m. (CT)
Fri 8 a.m. - 6 p.m. (CT)
Sat 8 a.m. - 1 p.m. (CT) Monday to Thursday 8 AM to 7 PM (Central Time), Friday 8 AM to 6 PM (Central Time), Saturday 8 AM to 1 PM (Central Time)