Applying for a mortgage? Here are 5 ways to prepare
Feeling intimidated by a mortgage application? Follow these five simple steps to boost your confidence and maybe improve your chances of getting approved.

If you're in the market for a new home, taking some time to prepare for the home-buying process can help ease the stress and simplify your search. The mortgage approval process can take from 18 to 40 days, and taking care of the prep work now can help you get into your new home faster.
The best way to make the mortgage process go smoothly is to do your homework before heading to your lender. Doing a bit of planning before applying for a mortgage can boost your confidence — and your chances of getting approved.
Here are five things you need to know before applying for a mortgage:
1. Understand the cost of homeownership
The price of your home is definitely important, but you also need to consider your down payment — ideally 20% of the home's sale price to avoid additional monthly fees. Depending on the lender, however, the amount required for a down payment can be as low as 3%.
How much you put down will impact your monthly payments – and it can also affect your interest rate. For example, if your down payment is less than 20%, you'll likely need to purchase Private Mortgage Insurance (PMI), which will increase your monthly payment.
It's important to remember that your monthly mortgage payment isn't the only ongoing cost of homeownership. It's a good idea to create a budget that includes not only your estimated mortgage payment, but also things like your utilities, property taxes, home insurance and home maintenance. This will give you a realistic idea of the monthly costs of homeownership, so there are no surprises after you kick off the mortgage process.
Tip: Getting pre-qualified for a mortgage before you start house hunting is a great way to understand exactly how much house you can afford.
2. Check (and boost!) your credit score
A low credit score might impact the amount a lender is willing to loan you, as well as the interest you'll need to pay. Before you apply for a mortgage, here are a few tips to help improve your score:
Review your report and correct any issues. You can report errors you find to the major credit bureaus: Equifax, Experian and TransUnion.
Lower your outstanding credit card balances. A low debt-to-credit ratio can have a positive impact on your score.
Pay your bills on time. Missed payments can lower your credit score, so set up automatic payments to avoid unintentional lapses.
Don't apply for new credit cards or other loans while looking for a home. Loan officers may be more hesitant to approve loans when they see a string of recent credit applications on your records.
3. Know your debt-to-income ratio
Never heard of debt-to-income ratio ? That's okay, it's actually pretty simple. Your debt-to-income ratio is the percentage of your total monthly income (before deductions) that goes toward paying off your debts. You want a low debt-to-income ratio to get a more affordable mortgage with better terms.
In general, you'll need to have a debt-to-income ratio that's 43% or less with your new mortgage, according to the Consumer Financial Protection Bureau (CFPB). If your percentage is too high, you may need to find a way to make more money (like a side hustle) or get serious about paying off some of your debt.
To determine your debt-to-income ratio, divide your total monthly debt payments by your gross monthly income.
For example: Let's say your student loan and credit card payments add up to $2,500 a month, and your monthly income before taxes is $5,000. When you divide $2,500 by $5,000, you'll get a debt-to-income ratio of 50%, which is a bit higher than recommended. If you could reduce your debt payments by $500 a month, your ratio would be 40%, which puts you in the right range to get a mortgage.
"Doing a bit of planning before applying for a mortgage can boost your confidence — and your chances of getting approved."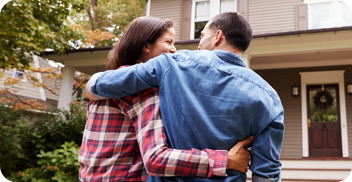 4. Get your personal documents in order
Mortgage brokers and lenders may ask for documents before approving your application. While you may not need all of them, to keep the process moving smoothly you may want to round up a few crucial ones:
Your social security number and two forms of government ID (such as a driver's license, passport or other identifying documents)
Two years of W-2 forms or pay stubs — or other documentation, such as a year-to-date profit and loss statement if you're self-employed — to verify your income
Two years of tax returns
Two to three months of bank statements and explanations of any bank accounts opened in the past six months
Proof of any other income source, like rental or pension income
Information on car loans, student loans or other consumer debt you're paying off
Information on any other properties you own
Miscellaneous documents, such as a landlord statement indicating you have a positive rental history
The good news is that submitting documents is getting easier. In some cases, you can submit all your documentation online, either by uploading it or by connecting your accounts to automatically fill in your information.
Heads up: If your parents or another family member are giving you money to put toward the purchase, they'll need to provide a "gift letter" stating that the money is a gift, not a loan, and won't need to be repaid. Make sure to check with your lender on how much of your down payment can be gifted to you.
5. Start saving money for closing costs
On top of your down payment, there'll be additional costs on the day you close your mortgage, called 'closing costs.' Closing costs are all the expenses you'll need to pay in addition to the cost of your home. Closing costs include:
Property evaluation fees
Land survey fees
Title insurance
Legal costs
Fire/property insurance
Closing fees
Property tax
Transfer tax
To avoid a total surprise, estimate that your closing costs will be about 3% to 6% of your home purchase price. Within three days of receiving your loan application, your lender or mortgage broker is required to give you a Loan Estimate outlining your exact payments.
For example: The actual fees must be shown to you in the form of a Closing Disclosure which must be provided to you 3 business days before your actual closing date. You can often add these expenses to your loan if you want to avoid paying them upfront, but keep in mind that that will increase your total loan amount — and your monthly payments.
The bottom line
When it comes to applying for a mortgage, a little preparation can go a long way. Getting your documents and finances in order will make for a smoother process and hopefully get you approved and into your new home even faster.
Ready to get started?
Take the first step toward your new home. Find out how much you can afford today.
Helpful tools
Give us details about your home and we'll tell you how much your monthly mortgage payment could be.
Get a better sense of the full cost of buying your new home by calculating what your closing costs could be.
Related articles

How much money should you put down on a new home? Get our tips on saving for a down payment and calculate what your payments could be.

Should you get pre-approved or pre-qualified for a mortgage? Learn the difference between the two to make your house-shopping journey easier.
Have questions?
Mon - Thu: 8 a.m. - 7 p.m. (CT)

Fri: 8 a.m. - 6 p.m. (CT) Sat: 8 a.m. - 1 p.m. (CT)
Banking products and services are subject to bank and credit approval. BMO Bank N.A. Member FDIC.