Personal > Checking Accounts, Debit and ATM Card > BMO Debit Mastercard, current page BMO Debit Mastercard
BMO Debit Mastercard®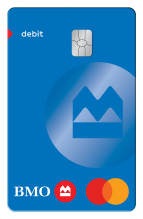 No need for checks and safer than cash. Get instant access to your money along with the benefits of a Mastercard® for all your purchase and spending needs.
Get more out of every purchase with these extra benefits.
Satisfaction Guarantee
Get a full refund for most purchases, up to $250, if the store will not accept a return. Footnote 1
Mastercard Global Service™
Count on 24/7 assistance with Lost and Stolen Card Reporting, Emergency Card Replacement, finding an ATM, or card related questions. Footnote 1
Extended Warranty
Extend the original manufacturer's (or U.S. store brand) warranty on most new items for extra peace of mind. Footnote 1
Fast and convenient ATM access
Unlimited fee-free access at over 40,000 Allpoint® and BMO ATMs nationwide and surcharge fee-free access at over 12,000 Allpoint® ATMs in Canada, Mexico, Puerto Rico, the United Kingdom and Australia. Footnote 2
Never miss a payment
Use your debit card to set up recurring payments like a gym membership, cable bill or utilities and avoid late fees.
Protect yourself with every purchase
Zero Liability Protection 

You will not be held responsible in the event of unauthorized purchases. Footnote 3
Get more protection against fraud with every purchase at chip-enabled terminals.
Mastercard ID Theft Protection™
Proactively monitors millions of data points to detect fraud at its inception and alert you so you can take immediate action. Footnote 1
Mastercard SecureCode™ helps ensure that only you can make online purchases with your card. It's safe, easy and free. Footnote 1
Get real-time debit card alerts and set up controls to monitor and limit access to your debit card.
How it works:
Online
Shop online safely and conveniently.
U.S. and international purchases
Use it at any retailer that accepts Mastercard®, and simply select 'Debit' as your method of payment.
How it works:
Online
Shop online safely and conveniently.
How to get your debit card
BMO Debit Mastercard® is available to all BMO personal banking customers.
Check out our other Debit Cards
BMO Bulls, Blackhawks & Bucks Debit Mastercard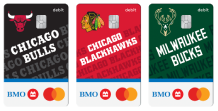 For the ultimate fan, carry your team card wherever you go – plus, get team perks!
BMO Mastercard Gift Card. Footnote 4
Please note that, as of January 1, 2023, BMO no longer offers BMO Mastercard4 for purchase. If you already have a BMO Mastercard Gift Card, you can continue to use it.
Gift Cards
Have more questions?
We're always here to help
Foot note 1 Details: Mastercard Guide to Benefits for more information.
Certain terms, conditions and exclusions apply. For complete coverage terms and conditions call 1-800-MASTERCARD (1-800-627-8372) for assistance. Refer to the
Foot note 2 Details: ® ATMs located outside of the United States.
Foreign Transaction Fees will apply at Allpoint
Foot note 3 Details: Get Details
Pay only for purchases that you have authorized on your Mastercard card. Unauthorized purchases are not your responsibility. Conditions and exceptions apply.
Foot note 4 Details: Funds on gift cards are NOT FDIC insured.
Apple and Apple Pay are trademarks of Apple Inc., registered in the U.S. and other countries. Google Pay is a trademark of Google LLC. Samsung and Samsung Pay are trademarks of Samsung Electronics Co., Ltd.
Mastercard, Mastercard ID Theft Protection™, Tap & Go and the circles design are registered trademarks of Mastercard International Incorporated.
The Chicago Blackhawks is a trademark of the Chicago Blackhawk Hockey Team, Inc. The Chicago Bulls identifications are the exclusive property of NBA Properties, Inc. and the Chicago Bulls. ©2023 NBA Properties, Inc. The Milwaukee Bucks identifications are the exclusive property of NBA Properties, Inc. and the Milwaukee Bucks. ©2023 NBA Properties, Inc. All rights reserved.