What you need to know about your down payment on a house
How much money should you put down on a new home? Get our tips on saving for a down payment and calculate what your payments could be.

A crucial step toward buying a home is the down payment on a house. It's so important that you should start thinking about it as soon—or even before—you've made the decision to buy. Especially in competitive housing markets like Chicago, before you start looking at homes you'll want to know what a down payment is, how it works and what your options are. We'll explain all of this and show you a down payment calculator so you'll know how much you'll need to save.
What is a down payment?
A down payment is the part of your home's purchase price that you pay at closing. Most mortgage lenders require down payments between 3% and 20% of the home purchase price in order to be approved for a mortgage. The requirements and costs in your case may differ depending on your credit score, mortgage type, and the value of the home you want to buy. For example, loans greater than $510,000 are known as "jumbo loans" and come with stricter qualifying requirements, including higher down payments.
How do down payments on houses work?
Your down payment is the amount of your home's total purchase price that you pay in advance. The higher the down payment on your house, the less you'll borrow, and the lower your monthly mortgage payment will be. In this way, a larger down payment up front can lead to lower overall costs, while a lower down payment costs less up front, but usually results in higher monthly mortgage payments. Basically, with a larger down payment, you have already paid for a larger percentage of your home, so you'll borrow less for your mortgage.
How much down payment will you need for a house?
The standard down payment is usually 20% of the purchase price. Making a 20% down payment will save you money in two ways; you'll pay less in mortgage interest over time, and it will lower your monthly payments over the life of your loan. It's possible to pay less than 20% as a down payment, with some programs requiring as little as 3%. If you do put down less, your rate may be impacted and you also may be required to pay for monthly private mortgage insurance (PMI), until you've paid for at least 20% of your home.
If you've found the right house and you don't have 20% on hand, banks like BMO offer low down payment mortgages that can help make buying a home more affordable. Plus, there are down payment assistance programs designed to help renters become homeowners. These programs can help cover all or some of your down payment and may help with closing costs. They're well worth looking into to find out if you're eligible.
In places like Chicago, for example, the city council has introduced a variety of assistance programs to help locals afford to buy homes. The Building Neighborhoods and Affordable Homes Program provides homebuyers with as much of $60,000 in assistance to buy houses in five specific Chicago neighborhoods. You can learn more about the city's efforts to support homebuyers on the Chicago city council website.
"The higher the amount of down payment on your house, the less you'll borrow, and the lower your monthly mortgage payment will be."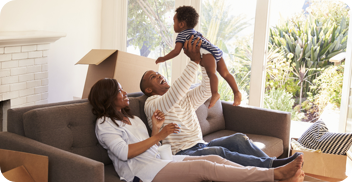 Using a down payment calculator
Whether you have a specific home in mind or you're trying to figure out how much you can afford to spend on a home, it helps to calculate your down payment in advance. You'll want to make a holistic assessment of your financial situation, as well as housing trends in the area that you've chosen. Also consider any additional costs both now and after you've secured a house, like closing costs, monthly utilities, the expense of home furnishings and ongoing maintenance.
When you're ready, BMO has a down payment calculator that can help you figure out how much you'll need, and even lets you calculate how much your mortgage could be depending on how much you put down.
Saving for a down payment on a house
Wondering when you should start saving for a down payment? The answer is: as soon as you can. You'll want to put your money where it will earn interest at low risk. A money market account or certificate of deposit (CD) offer FDIC-insured security while continuously growing your money at the rate and term that you choose.
Tips for saving for a down payment
No matter where you are in your home-buying journey, saving for a down payment is always a good idea. Here are some great tips that can help you save money for your down payment.
Determine how much you'll need to save and for how long.

BMO's

down payment calculator will help determine how much you'll need to save. Once you've done this, look at how much you can afford to save, and how long it'll take to reach your goal.
Put aside a percentage of your income every month. Once you've determined how much you need and what you can afford to save, make it a regular monthly habit. Auto-save tools can help you with this, transferring the money automatically into your savings account without you having to remember to do it each month.
Work out a budget — and stick to it. It may help to track your spending for a while to see where your money is going, then lay out a budget for yourself and do your best to keep to it.
Live a bit more frugally. Once you've seen where your money is going, you can see where you can afford to cut back a little bit on spending. The more you're able to save, the more quickly you'll get to your goal!
Save any extra money you get from your tax refunds, bonuses, etc. When you get a little extra bonus, consider applying it toward your savings. You'll get to your down payment — and into your new home — faster!
Consider adding a second income. If you need to build up money, consider a second job or freelancing on the side. It can add that extra bump you may be needing.
Look into local government grants and loans. For example, if you're looking to buy a home in Chicago, be sure to do your research and learn what government assistance programs might be available to you. You can check out all the homebuyers programs offered on the city of Chicago website.
Get on the path to home ownership
Congratulations on doing your mortgage homework! Now that you know how important a down payment is, you're better positioned to start saving and exploring the programs that might help you become a home owner sooner. Your diligence will pay off when you put an offer on a home. When you're ready to take the next step and would like to speak with one of our mortgage specialists, give us a call at 1-888-482-3781. We're available Monday through Thursday 8 a.m. - 7 p.m. (CT), Friday 8 a.m. - 6 p.m. (CT) and Saturday 8 a.m. - 1 p.m. (CT). We'll talk you through your options and help you find the resources that can make a difference. Happy saving — and house hunting!
Ready to get started?
Take the first step toward your new home. Find out how much you can afford today.
Related articles

Your debt-to-income ratio is one of the most important factors lenders look at when you apply for a mortgage. Learn how to calculate your DTI and get tips on improving it.

Feeling intimidated by a mortgage application? Follow these five simple steps to boost your confidence and maybe improve your chances of getting approved.
Have questions?
Mon - Thu: 8 a.m. - 7 p.m. (CT)

Fri: 8 a.m. - 6 p.m. (CT) Sat: 8 a.m. - 1 p.m. (CT)
Banking products and services are subject to bank and credit approval. BMO Bank N.A. Member FDIC