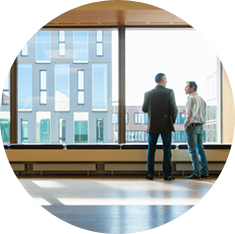 Looking to take your business to the next level? There are a few ways to grow a business – expand your services, acquire new equipment or property, hire more staff, and more.
We can help you grow effectively, with solutions to help you finance and manage your growth.
Small Business Stories
---
---
Tips to help grow your business
Choosing a payment processing solution
---
Loans, Lines of Credit and Mortgages to Help You Grow
We have the financing solutions that can help you grow your business1.
Small Business Borrowing
We offer loans and lines of credit that can cover the day-to-day expenses of a growing business, or help you fund a major purchase.
Commercial Business Borrowing
Our commercial borrowing solutions provide financing to fund your acquisition and expansion plans.
Commercial Mortgages
If your growth involves acquiring new property, our Commercial Mortgages offer a range of rates and terms that can work for your business.
---
Help me choose a Business Bank Account
We can help you choose with six simple questions.
---
Not sure where to start?
Let us help you find what you need by telling us a bit about your business.
---
Your credit card situation
If you need greater purchasing power, more authorized users or different features out of your credit card, consider a Commercial or Corporate card.
---
Operations
Managing the day-to-day operations of your business requires the right resources, products and partners. Do you have the support you need in place?
How are you handling your payments and receivables?
From accepting payments to managing payroll, we can help you simplify the way your customers pay you, and the way you pay your employees.
Accepting payments & payroll
Are you outgrowing your existing solutions?
If your small business has been growing, it may have become a commercial enterprise. Make sure you have the right solutions for your growing organization.
Are you a large commercial or corporate/government client?
Whether you're focused on managing your payables or accepting your receivables, there are different solutions available depending on the type and size of your business. Find out if you're making the most of the resources available to you.
Cash management
---
---
®Registered trade-mark of Bank of Montreal