How to apply for a loan: Your complete guide
Applying for a loan is a big step, but it doesn't have to be a stressful one. We'll help you understand the full application process, so you'll know what you need and what to expect.

When major expenses arise — maybe you're planning to go back to school or renovate your home — you may choose to seek out some financial help to cover the cost by applying for a loan or line of credit. This way, you won't be stuck scrambling to meet your regular payments, like your mortgage or rent and other monthly bills.
Getting a loan or a line of credit can be a smart move to help you pay for big purchases while still managing all your other expenses, especially in high-cost-of-living cities like Chicago.
Unfortunately, you can't just snap your fingers and get a loan — you'll need to follow a specific application process. Understanding what you need and getting your documents in order ahead of time can help save you time and simplify the process.
To help you with the application process, we've rounded up everything you need to know before you apply for a loan or line of credit.
Who you'll work with?
When you apply for a loan, you're considered a "borrower." As a borrower, you typically get a loan from a lender, which is usually a financial institution like a bank.
You'll work with a professional at your financial institution who can help you through the full loan process, from start to finish. They'll work with you to understand why you need a loan, how much you can afford, and they'll help you make the decision that best fits your needs.
How to prepare to get a loan
When you apply for a loan, you'll work with a lender of your choice to complete the process. Regardless of what type of financing you need, here are some things you should do before getting a loan.
Step 1. Do your research and ask the right questions
You'll want to do your research before signing on the dotted line. Talk to your lender and make sure you know the costs, rate, terms and conditions of the loan you're considering.
Here are some questions to ask before you apply for a loan:
What loan or line of credit options are available?
What's the interest rate?
What fees will I be charged, if any?
What repayment terms are available?
What type of collateral is required (house, etc.)?
What type of credit history is needed to be approved?
Who can help me if I have questions along the way?
Step 2. Check your credit
When you're shopping around for a loan or line of credit, you want to score the best interest rate possible. The lender wants that for you too, but your credit score will affect the interest rate you'll pay on a loan.
Your credit history and credit score help lenders decide how creditworthy you are — how likely you are to pay back the loan and make your payments on time.
Depending on your credit history, the lender may require a co-signer or joint borrower.
Lenders want to make sure you can pay back the loan under the agreed terms. If your credit could use some improvement, you could be considered a risk to a lender. Making payments on time and maintaining low balances on your other credit accounts can help boost your credit score.
What's a co-signer? A co-signer is someone who jointly applies for a loan with you. Typically, you'll only need a co-signer if you lack credit history or have had problems making payments in the past. Co-signers aren't just using their signature and good credit to help you out. They're legally obligated to make payments toward your loan if you fail to make them yourself.
Step 3. Figure out the total cost of your loan, including interest
The amount you borrow isn't all you'll pay back on a loan or line of credit. Interest will add to your total monthly payment, so it's important to crunch the numbers and understand the true cost of your loan. Your principal balance is how much you borrow, but that number increases with interest.
Interest is a percentage of your loan, typically expressed as an APR (annual percentage rate), that you pay on top of the amount you borrow. When you enter into a loan or line of credit agreement with your lender, the interest charged is how they make their money.
For example, say you need a loan for $10,000 to buy a car, and make monthly loan payments of $188.71 over 5 years. If your interest rate is 5%, you'll end up paying a total of $1,322 in interest along with the original $10,000 you borrowed.
$10,000 car loan + 5% interest
$188.71 in monthly payments over 5 years
$1,322 = your total interest payments
You'll want to consider interest rates, repayment terms and your principal balance to calculate the true cost of your loan.
On top of the interest, you also want to be clear on what your monthly payments will be, so you can add that to your budget. Use our calculator to determine how much your loan payments will be.
"Talk to your lender and make sure you know the costs, rate, terms and conditions of the loan you're considering."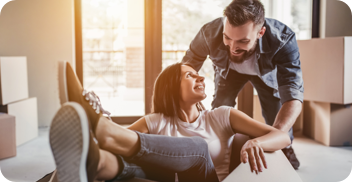 Step 4: Prepare the documents you'll need to apply for a loan
If you need a loan, working with a trusted lender can help you get the money you need at the best rate for you. When you apply for a loan, you'll need to provide documentation as part of the application process. Here are some things you might need to have prepared, whether you're applying in-person or online:
Identification. You'll want to have government-issued I.D., like a driver's license or passport. The lender will want to verify your full name, address, phone number, etc. as part of your application.
Pay stubs. Providing your pay stubs can help a lender get a better understanding of your income. Depending on the type of loan you apply for, these might be required.
Tax returns. Some loan applications also require your tax returns, so it's a good idea to have at least two years' worth of tax returns ready. Your returns can give lenders a bigger picture of your financial situation.
Other documents as needed. If you want to apply for a home equity loan or line of credit, you may need to provide a mortgage statement as well as recent property tax statements. Depending on the type of loan or line of credit, you may also need to provide bank statements showing your current balances.
How the lending process works
Once you've done your research and have your documents in order, it's time to apply for a loan or line of credit.
When you apply for a loan: You'll work with a lender or financial institution to submit your application and documentation. You'll then get approved for a specific amount with a specific interest rate and repayment term. Depending on the lender, you may be able to apply online, in a branch or by phone. Once you have the funding and use your loan, make sure to stay on top of your repayment to keep your credit in good shape.
A line of credit is a bit different: Unlike a loan, which has a set amount that you borrow and a fixed repayment period, a line of credit is more like a credit card. You have a specific amount of money you can borrow, but you don't need to borrow it all at once. You can just draw the amount you need, as you need it. And when you need more, you can make additional draws, until you hit your credit limit.
A line of credit can help cover larger expenses, like home renovations, or anything else where you're not certain about your total costs up front.
The bottom line
If you need a loan or line of credit, you want to make sure you're working with a lender that has your back and can help make the process easier. Borrowing money is a big step in your financial life, but it doesn't need to be a stressful one. Getting your documents in order and doing your research upfront can help you be an empowered borrower, so you can get a loan for the amount you need without any hassle.
Ready to get started?
We'll help you along the way.
Helpful tools
Learn how large a line of credit you can get with our online calculator.
Find out how much your monthly loan payments can be.
Related articles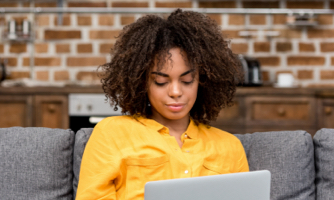 Getting a declined application can be frustrating. Learn about the most common reasons this happens and what you can do about it.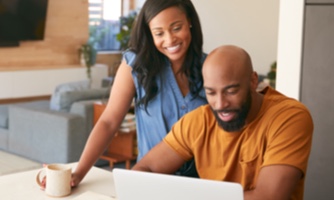 Tap into the equity in your home to consolidate your debt and potentially save money over time. Here's how.
Banking products and services are subject to bank and credit approval. BMO Bank N.A. Member FDIC