Debit cards
BMO World Debit Mastercard®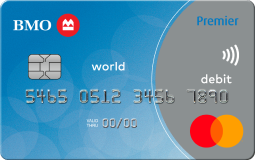 No need for checks and safer than cash. Get instant access to your money, along with the benefits of a Mastercard® and more.
Get more out of every purchase with these extra benefits.
Satisfaction Guarantee
Get a full refund for most purchases, up to $250, if the store will not accept a return. Footnote 1
Mastercard Global Service™
Count on 24/7 assistance with Lost and Stolen Card Reporting, Emergency Card Replacement, finding an ATM, or card related questions. Footnote 1
Extended Warranty
Extend the original manufacturer's (or U.S. store brand) warranty on most new items for extra peace of mind. Footnote 1
Fast and convenient ATM access
Unlimited fee-free access at over 40,000 Allpoint® and BMO ATMs nationwide and surcharge fee-free access at over 12,000 Allpoint® ATMs in Canada, Mexico, Puerto Rico, the United Kingdom and Australia. Footnote 2
Purchase Assurance
Provides coverage for most items you purchase with your BMO World Debit Mastercard® if the item is damaged or stolen within 90 days of the date of purchase. Footnote 1
Never miss a payment
Use your debit card to set up recurring payments like a gym membership, cable bill or utilities and avoid late fees.
Protect yourself with every purchase
You will not be held responsible in the event of unauthorized purchases. Footnote 3
Get more protection against fraud with every purchase at chip-enabled terminals.
Mastercard ID Theft Protection™
Proactively monitors millions of data points to detect fraud at its inception and alert you so you can take immediate action. Footnote 1
Mastercard SecureCode® helps ensure that only you can make online purchases with your card. It's safe, easy and free.
Get real-time debit card alerts and set up controls to monitor and limit access to your debit card.
How it works:
Online
Shop online safely and conveniently.
U.S. and international purchases
Use it at any retailer that accepts Mastercard®, and simply select 'Debit' as your method of payment.
How it works:
Online
Shop online safely and conveniently.
How to get your BMO World Debit Mastercard
BMO World Debit Mastercard® is available to all BMO personal banking customers.
Check out our other Debit Cards