8 home renovations that can increase your home value
Did you know giving your home a refresh can increase its value? Explore how you can add to your home's visual appeal and overall worth with these popular renovation tips.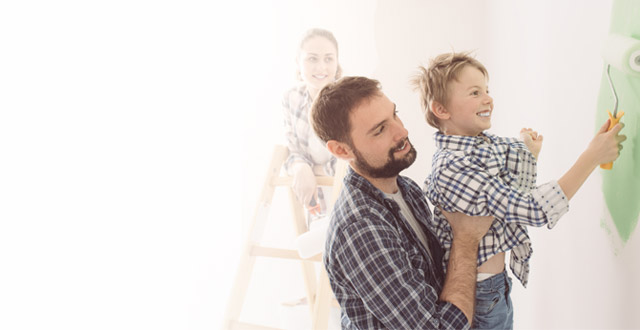 Nearly half of all homeowners who get a home equity line of credit use it to pay for renovations, according to a BMO report.
And with good reason: The right renovations can not only increase the comfort of your home, they also have the potential to provide a serious boost to your home's value. But it's important to understand which renovations are worth your time and money before you grab a hammer.
If you're thinking about tapping into your home equity to spruce up your living space, consider these eight upgrades that could add the most value, according to Remodeling's 2023 Cost vs. Value Report.
Exterior home renovations
Here are the top ways to boost your curb appeal (and property value):
Replace your garage door: Out with the old, in with a new garage door! A nicer option will cost you about $3,470, but could add more than a $3,411 value to your home — making your ROI more than 98%.
Add manufactured stone veneer: This cheap, lightweight material is perfect for refreshing your home's siding — and you can even recoup 97% of the material's $8,221 cost, on average. If you're hoping to save more, cut labor costs and install it yourself.
Increase security with a steel entry door: With a $1,471 average price, upgrading to a steel door is one of the most cost-efficient home improvements you can make. You could potentially recoup more than 91% of expenses when you sell your home.
Build a wooden deck: Not only will you create more entertaining space, you might boost your resale value. Those who invested an average of $10,950 for a wooden deck recouped about 82.8% of their costs.
Slide in new siding: Homeowners spent an average of $15,072 to replace their siding, and saw a typical ROI of 76.7%.
"The right renovations have the potential to provide a serious boost to your home's value."
Interior home improvements
The best value-adding enhancements inside your home:
Make minor kitchen changes: You don't have to completely overhaul your kitchen to see some serious ROI: Homeowners spent an average of $21,198 and recouped about 81.1% of their costs. Replace the cabinet doors and hardware, swap in energy-efficient appliances, and make cosmetic updates to the counters, floors and walls if you want to win buyers' hearts.
Replace wood windows: Drafty windows can cause your energy bills to soar. Reduce your monthly costs and earn back a potential 74.3% of what you spend by investing in vinyl window replacements, which on average will cost about $15,955.
Remodel the bathroom: A modern bathroom, especially one with an accessible design, can add a good chunk of value to your home. Homeowners who spent about $19,134 generally recouped at least 70% of the cost.
The bottom line
Home renovations can be a big investment of time and money, but the right project can make it worthwhile. Besides making your home a more enjoyable place to live, you have the potential to get more for your home when it comes time to sell.
Interested in fixing up your place? A home equity line of credit can help you tap into the equity you've built up in your home to pay for home improvements.
Ready to get started?
Make your home work for you with a home equity line of credit.
Banking products and services are subject to bank and credit approval. BMO Bank N.A. Member FDIC