Invest online, not alone, with BMO SmartFolio.
Expert portfolio managers make each investment decision

Dedicated SmartFolio advisors available through email, phone or live chat

Transparency around your account holdings and fees

24/7 access to your account with real-time updates, so you're always in the know
Invest today and don't pay fees for a year on assets up to $15,000.*
Use Promo Code: Promo15000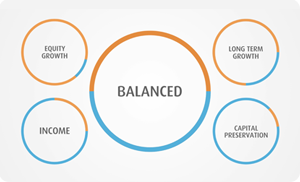 See SmartFolio in action
---
How does it work?
SmartFolio is an easy, intuitive and affordable online investing service.
We match you with an ETF portfolio
Tell us about yourself and how much you're looking to invest, and we'll match you with an ETF portfolio that fits your investor profile. Then, open your SmartFolio account.
We handle the
day-to-day
Walk your dog, spend time with your friends and family, and relax. We'll balance your ETF portfolio and keep it on track with your investment objectives.
You track your
performance
Review your account from any mobile or desktop device and track your progress against your goals.
The benefits of low-fee investing
Management fees can really have an impact on your investments over time. The graph below shows how lower fees improve the return of a portfolio with a 1% fee vs a 2% fee (with a 6% return). To see the difference lower fees can make to your investments, simply enter your investment amount and the number of years you plan to invest:
The 6% return value is a hypothetical annual return value used to illustrate the difference an annual fee can have on a portfolio's return when compounded over time. It is not a historical BMO SmartFolio portfolio return, and is not indicative of future BMO SmartFolio returns.

A 1% fee portfolio
0/mo
Monthly Account Fee
Compared to
a 2% fee portfolio
0/mo
Monthly Account Fee
3 tips to help you win at investing
It's all about starting with the basics:
Start early
The longer your money is in market, the more time it has to grow.
Contribute often
Increasing your contribution amounts leads to an increase in investments.
Choose an investment option with lower fees
SmartFolio's low fees take less of a bite out of your savings.
---
What are people asking?
Is BMO SmartFolio the same as a Robo Advisor?
BMO SmartFolio is an online portfolio management service for clients looking for an affordable investment solution. While it may be a digital service, similar to a robo advisor, SmartFolio has a team of expert portfolio managers making each investment decision The portfolio management team is comprised of 17 professionals who collectively manage over $20 billion in Assets Under Management (AUM), with over 300 years combined financial experience. The team includes five accredited Portfolio Managers and eight Chartered Financial Analysts (CFA).
What is an ETF?
An ETF (Exchange Traded Fund) is an investment fund that represents a basket of stocks, bonds or other investments. Unlike conventional mutual funds, an ETF is traded on a stock exchange and often tracks a market index or may have a specific investment strategy. ETFs can be an attractive investment as they are typically a low cost option to build a well-diversified portfolio.
How is my ETF portfolio recommended?
As part of the sign up process, we'll ask you a series of questions to help you determine your objectives and risk tolerance for your BMO SmartFolio account. Upon completion, you'll be automatically presented with a model portfolio which is in line with your objectives for you to review. As a final check, a registered representative from BMO SmartFolio will evaluate your full application to ensure you're aligned with the right portfolio to suit your investment needs. Once you've accepted, your funds will be allocated accordingly.
Ready to start investing?
Open your SmartFolio account and let us help you reach your financial goals. Start by getting matched with an ETF Portfolio.