ETFs: The investments behind SmartFolio's affordable performance

Start Investing Today
Enjoy the benefits of having a professionally-managed ETF portfolio at a low cost
Choose from a range of account types including TFSAs, RRSPs, RESPs and RRIFs
See what's happening with your holdings on a daily basis
BMO ETFs have been recognized for their performance year after year in a number of categories1
Exchange traded funds, or ETFs, are at the heart of SmartFolio's affordability and adaptability. If you've ever wondered what ETFs are, or what makes them a good choice for building a diversified investment portfolio, we'll try to cover the basics for you here.
What's an ETF?
ETFs are similar to Mutual Funds or Index Funds, which combine a variety of stocks, bonds, and other investments into one fund. But there are some key differences: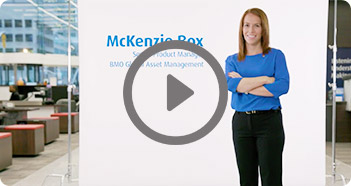 Understanding ETFs with McKenzie Box
A Mutual fund is actively managed to meet the fund's objectives, and tries to pick the best performing investments to beat the market
An index fund is a passive investment that tries to represent the entire stock market, and deliver average returns as the market grows overall
An ETF is traded on the stock exchange, and could be on either end of the spectrum, tracking a particular investment strategy or existing index
ETFs give you the benefit of owning dozens of stocks, bonds and more, without the costs associated with holding and trading them, so you can easily diversify your portfolio. ETFs also typically have lower management expense ratios (MERs) than other investments, since they are built to minimize costs which get passed on to you.
Here are a few more of the benefits of ETFs at a glance:
Liquidity – they can be bought and sold anytime during the stock exchange's trading hours
Diversification – a mix of assets offers a potentially lower risk than investing in individual securities
Transparency – you can see exactly what's happening in your ETFs on a daily basis
BMO ETFs are best in class
As one of the first movers and largest providers of ETFs, BMO Global Asset Management lets you enjoy a large selection of highly regarded ETFs. They've been recognized for their quality year after year, and most recently seven BMO ETFs were awarded top honours at the 2017 Thomson Reuters Lipper Fund Awards. In fact, they're so good, you'll almost always see BMO ETFs in the model portfolios of other online investing services or "robo-advisors".
BMO ETFs have been recognized for their performance year after year in a number of categories 1
How SmartFolio uses ETFs
As a product of BMO Nesbitt Burns, BMO SmartFolio uses BMO ETFs to bring you better diversification and lower fees on your portfolio. You also have a team of investment professionals monitoring your portfolio to make sure it's on track, actively selecting which ETFs should be in each portfolio to take advantage of market movements. SmartFolio gives you the benefits of a low-cost, diversified model ETF portfolio with the skills and expertise of an investment professional.