BMO SmartFolio
Smart Digital Investing for all Canadians
What is SmartFolio?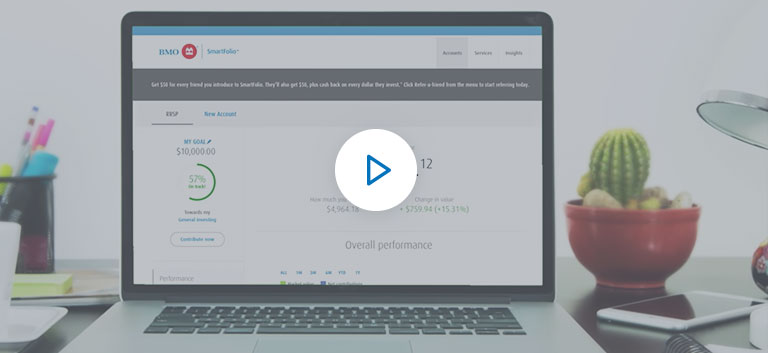 SmartFolio is a digital investing experience that helps you invest online with confidence. The first service of its kind by any bank in Canada, SmartFolio gives you the convenience of online investing with the support of expert portfolio managers.
The benefits of low-fee investing
Management fees can really have an impact on your investments over time. The graph below shows how lower fees improve the return of a portfolio with a 0.7% fee vs a 2% fee (with a 6% return). To see the difference lower fees can make to your investments, simply enter your investment amount and the number of years you plan to invest:
Input your investment amount or use the slider to calculate your fees.
Input the number of years you plan to invest your money or use the slider.
What it costs:
A 0.7% fee portfolio
Monthly Account Fees
A 2% fee portfolio
Monthly Account Fees
Online investing with a human touch
SmartFolio is an online service, but your portfolio is managed by experienced professionals. Your portfolio management team regularly reviews and adjusts your portfolio, so you don't have to worry about making trades or market changes. They do all the heavy lifting, you reap all the rewards.
Learn more

about what we do
SmartFolio by the numbers
300 years
Combined experience of Portfolio Managers and Chartered Financial Analysts
4+
Times your portfolio is rebalanced per year
0.7%
fee for managing your portfolio
Smart ways to invest with SmartFolio
Want to learn more about investing strategies?
Getting started with SmartFolio
It's quick and easy to open a SmartFolio account if you're a BMO customer. Once you complete our risk questionnaire, we just need:
An estimate of your net worth
Your social insurance number
Your bank information
Not a BMO customer? We'll need to get to know a little more about you to get you started.
Here's what you'll need as part of the sign-up process.

If you're new to BMO, you'll need one document from group A and one from group B in order to open a SmartFolio account.

Group A:

CRA (e.g. notice of assessment, GST refund)
T4 statement
Utility bill (your name must be indicated)
Investment account statement

Group B:

Credit card statement
Bank statement
Loan account statement (e.g. mortgage, car loan, etc.)

Please ensure your documents:

are unaltered, with clearly visible information
are valid and provide the most recent records
include an account or reference number
are an original electronic document (i.e. no photocopies, photographs, faxes or scans)
are from different sources
Ready to start investing?
Open your SmartFolio account and let us help you reach your financial goals. Start by getting matched with an ETF Portfolio.
Not sure if Smartfolio is right for you?
We've got other online investing options.
InvestorLine Self-Directed
You're the pilot
You've got this! Take control of your investments, from research and trading to tracking your portfolio's progress.
InvestorLine adviceDirect
Invest with a co-pilot
You're in charge of trading. We'll provide personalized advice support from registered investment advisors, but you make the decisions.
SmartFolio
Invest on autopilot
Get matched with a portfolio based on your goals and we'll take care of the day-to-day investment management.