A guide to finding the best student bank account
Started your post-secondary studies? You may have already budgeted for most of your new expenses, but it can be tough to get the balance right. Here's how to use banking to your advantage.

If you're worried that you're spending more than you're taking in, don't panic – that's where a student bank account can help.
How do student bank accounts work? Well, they're designed to help you hold on to more of your money as you focus on keeping up with necessary expenses. You can use one to set yourself up for financial success as you focus on your academic success. Here's a rundown of the types of features you'll find in student bank accounts, and some tips to help you choose the right one for your life.
What to consider when comparing student bank accounts
First, think about your priorities. Not all students will walk the same path, and you probably have specific goals and challenges ahead of you – make sure the account you choose aligns with those priorities.
Not sure what your banking needs are? We've got you covered. Find out what to look for in a student chequing account and a savings account as you work your way through college or university.
How to choose a student chequing account
A chequing account is designed for quick, easy and repeated transactions. This is the account you use on a daily basis – think withdrawals and Interac e-transfers®§. You'll likely want some overdraft protection as a safety net, especially when your monthly expenses tend to fluctuate.
"You probably have specific goals and challenges ahead of you – make sure the account you choose meshes with those priorities."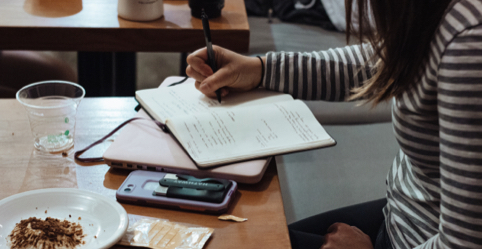 Here are some other features to consider as you make your choice:
Sign-up bonuses. Could you use a bit more cash right away? Some student accounts come with sign-up bonuses to get your savings off on the right foot.

Long-term perks. Instead of money up front, you could choose to enjoy the student account features for a while after graduation.

No monthly fees. Hate budgeting for that bank fee each month? If you're willing to make fewer transactions and transfers each month, you could avoid monthly fees.
While there's usually a trade-off, the right feature can make it all worthwhile. After all, a transaction limit can help you stay within your budget instead of going for that second (or third) slice of pizza!
Do I need a student savings account?
So, you've landed on the right chequing account for your needs. Excellent! Now, how about your savings account?
Even if it seems like you hardly have anything to save right now, you might want to open a student savings account. Since this type of account is for long-term, big-picture things – like tuition for the years ahead or an emergency fund – even a small amount is a step in the right direction, and it will help you develop a habit of contributing regularly.
A high-interest savings account will pay you interest on the money you keep in there, which is a great way to slowly grow your money without much effort on your part. If you can put away as little as $50 a month during your four-year program, you'll wind up with a balance of more than $2,400 when you graduate – and that's before interest!
The bottom line
The right student bank account will help get you through your day to day, but it should also help set you up for a rewarding financial future after you graduate.
Use the perks of a student chequing account for a leg up on your monthly budgeting and open a student savings account to help you hit the ground running when you enter your next phase of life. In the end, a smart banking strategy can help you take charge of your finances now, throughout your studies, and beyond.
®§ Interac e-Transfer is a registered trademark of Interac Inc. Used under license.
Not sure what's right for you?
Find a student account to suit your goals
Related articles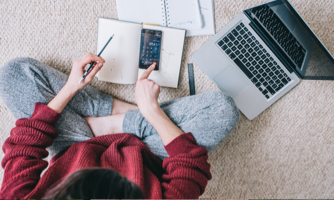 When money is already tight, it can be tough to prioritize saving. These tips can help you start saving, stay on track and gain control of your finances.