How to switch or change banks in Canada
Learn about how to switch banks in six steps, including how to find the right bank account for your needs, and what to know before you make the switch.

Your bank account is where you place your money for safekeeping, paying bills, and saving for a rainy day. You want a bank that caters to your needs and is convenient. It's your money, after all! At some point though, it might make sense to switch banks. Perhaps you've moved to a new city, had a big life change such as marriage or divorce, or you simply want a financial institution that you trust. If you're ready to say goodbye to your current bank and opt for a new one, the process can seem daunting. But figuring out how to switch banks doesn't have to be stressful. Follow these six steps to switch banks with ease.
Step 1: Research bank account options
If you're thinking "How do I switch banks?" and wondering where to start, the first step is to research bank account options. A good thing to do before starting your research is to identify what you want out of your bank account and why your current bank account is no longer cutting it.
For example, maybe you have trouble finding ATMs in your new area, making it difficult to withdraw cash. Or perhaps you needed to fix an issue and you were less than impressed with the customer service at a branch or the digital banking options were not available or user-friendly on your bank's website. To help you figure out what you need your bank to do better, write down instances where your bank failed you and keep them in mind as you do your research.
When you search for better bank account options, you may decide to try:
A bank account with a financial institution

An online bank account (no brick-and-mortar branches)

A local credit union (which may have eligibility requirements you need to meet)
Some things you want to keep in mind while comparing bank account options:
Is there a minimum balance requirement? (i.e. holding a minimum balance in your account to waive a monthly plan fee).

Are there fees I should be aware of? (such as overdraft fees or maintenance fees).

Do I earn interest on my savings?

How convenient is it to find an ATM in my area?

Is mobile cheque deposit available?

Is the mobile app or online account user-friendly and easy to navigate?

What customer service options are available? (i.e. is it easy to talk to someone when you need to).
Keeping these things in mind can help in the research phase so you find a bank that works for your financial needs and lifestyle. After doing your research, write down your top contenders.
Did you know BMO offers chequing accounts with access to almost 3,300 fee-free ATMs nationwide, and over 44,000 fee-free ATMs in the U.S., mobile banking optionsfootnote 1 and customer support via phone, online, or in person?
Step 2: Select your new bank
After doing your research, it's time to select your new bank. For convenience, you can pick one bank and open a chequing and savings account. Once you choose a bank, look at the eligibility requirements to make sure you qualify and review the terms and conditions. To help make switching bank accounts easier, find out the following:
What documents do I need to provide?

Do I need to go in person, or can I open an account online?
BMO offers chequing accounts, savings accounts, and other financial products to help you on your journey, like the BMO Savings Builder Account. 
"Make the transition to a new bank easy and seamless to stay on top of your finances."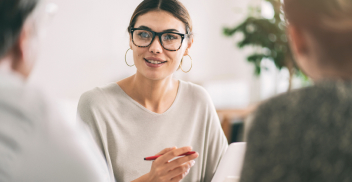 Step 3: Open a new bank account
After choosing a new bank, it's time to open a new bank account. You may be able to open one from the comfort of your own home on your computer or smartphone in a matter of minutes, or you may need to go in person to a local branch.
To open a bank account, you need to provide some personal information including your full name, address, phone number, email, date of birth, as well as account numbers from your old bank so you can make a deposit. To verify this information, you will likely need to provide a valid government-issued photo I.D. and two non-photo I.D.s from a valid source. More information about what you need to open a bank account at BMO can be found here. 
When opening a new bank account, you can typically transfer funds electronically from your old bank account. If you're opening an account in person, you may be able to transfer funds with a cheque or a cash deposit.
Step 4: Take an inventory of transactions associated with your old bank and update info
Opening a new bank account isn't hard — but updating where you receive deposits and make payments can take a bit more work. To make sure you don't miss any payments that you receive or send, take an inventory of the transactions associated with your old bank account. These transactions can include:
Direct deposit payments from your employer 

Government payments

Mortgage or rent payments

Credit card or student loan payments

Monthly subscriptions like a gym membership, a recurring donation, or an online streaming service

Transfers to savings or investments
Once you have all these transactions listed, update your payment and deposit transactions with the new bank's routing and account numbers. That way you won't miss any important payments coming your way nor will you be behind on any recurring bills that get automatically paid. Make the transition to a new bank easy and seamless so you can stay on top of your finances.
Step 5: Close your old bank account
After opening a new bank account and updating all of your deposit and payment information associated with your old account, you can request that your previous bank close your account.
Make sure all your automatic payments and deposits are working properly and transferred over to your new bank account. This might mean keeping your old bank account open for another month or so to make sure everything is up to date. You also want to update your payment info on any shopping or retail websites where your debit card info may be saved.
After confirming all your transactions are associated with the new bank account, you can close your old bank account. Depending on your bank, you may be able to do this via the phone, in person, or in writing. Once your old bank officially closes your account, get the closure in writing for your records.
Step 6: Optimize your new bank account
The final step in this process is to optimize your new bank account. Do this by:
Creating a username and password to access your account online

Downloading the bank's mobile app

Setting up recurring transfers from chequing to savings

Signing up for text or email alerts, if applicable

Getting your new debit card

Checking out your new bank's other offerings and products
If you're wondering how to switch banks, follow these six steps as your guide to make it happen without any hassle. BMO makes it easy for you with Powerswitch which helps you seamlessly transfer banks.
Once you feel ready to make the switch, get financial guidance and other benefits with BMO Ways to Bank.
Open a BMO bank account today
Helpful tools
Switching to BMO is as easy as 1-2-3.
Find the best bank account for you.
Footnotes
Footnote

1

details

 

Message and data rates may apply. Contact your wireless carrier for details.