Starting a business
Turn your lofty idea into a thriving company with our helpful tips, tools and products.
---
Tips on how to start a business
---
Help me choose a business bank account
Find the best account for your business with six simple questions.
Get Started
---
More start-up solutions
As you get your business off the ground, here are some financial products that help make things easier.
---
Your Financial Life
It's your business – and it's your life
Need help managing cash flow? Considering franchising? Want some tax tips you can use? Get practical advice on starting and running your business.
Learn more
---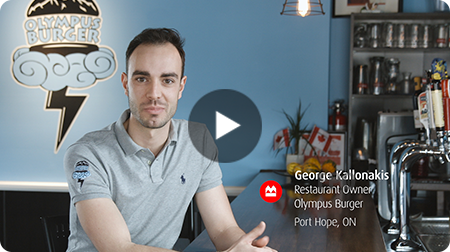 Small business success stories
See what inspired people to create their own business opportunities, what success means to them and how we helped along the way.
Ready to start? Let's meet and see what you need to succeed.
Book an appointment
---
Terms and Conditions
When you sign up for a Business Start or Business Builder 1 Plan between January 1, 2018 and April 30, 2018 , the monthly Plan fee will automatically be waived for the first three months. You are responsible for all transaction, service and product fees not included in your Plan. Offer is limited, mention the PROMO CODE: SBPlans.
For more information on the BMO Everyday for Business Banking Plans, go to bmo.com/main/business/plans/compare
BMO Rewards Business Mastercard applications must be received between January 15, 2018 and April 30, 2018 (the "Offer Period") to be eligible for this offer. The 35,000 BMO Rewards welcome bonus points offer and the annual fee waiver in the first year is limited to new BMO Rewards Business Mastercard accounts.You will earn 35,000 BMO Rewards points when you spend $5,000 in eligible card purchases (less refunds and excluding cash advances, cash-like transactions, interest charges, fees, credit or debit adjustments) in the first three (3) statement periods from the account open date. 35,000 BMO Rewards points will be applied to your BMO Rewards Collector Account on the statement following the eligible $5,000 spend. The annual fee of $120 for the primary owner's card and the fee for each additional card will be waived for the first year. The annual card fees apply after the first year and will appear on your account statement twelve (12) months after the account open date. This offer is not available to current or former BMO Rewards Business Mastercard cardholders who reinstate a closed account or open a new account during the "Offer Period". Existing BMO credit card cardholders who transfer into this product during the Offer Period are not eligible for this offer. 35,000 BMO Rewards welcome bonus points will be applied to your BMO Rewards Collector Account following the first statement after your eligible spend. If you cancel your card within ninety (90) days of account opening, the welcome bonus will be cancelled. This offer may be withdrawn or changed without notice
The promotional offer is available from January 1, 2018 and March 31, 2018 and is available only to new merchants located in Canada that meet the eligibility criteria. For details on the offer and the eligibility criteria, please visit www.moneris.com/bmooffer.
Receive a HR Services Upgrade to TeamPay by ADP® Enhanced when you are referred by Bank of Montreal ("BMO") by April 30, 2018 and sign and submit ADP's standard service agreement by May 31, 2018. Cannot be combined with any other promotions and is only available to new ADP clients in Canada with 1-49 employees that are referred by BMO and purchase TeamPay by ADP Essentials. ADP reserves the right to discontinue or modify this promotion at any time.