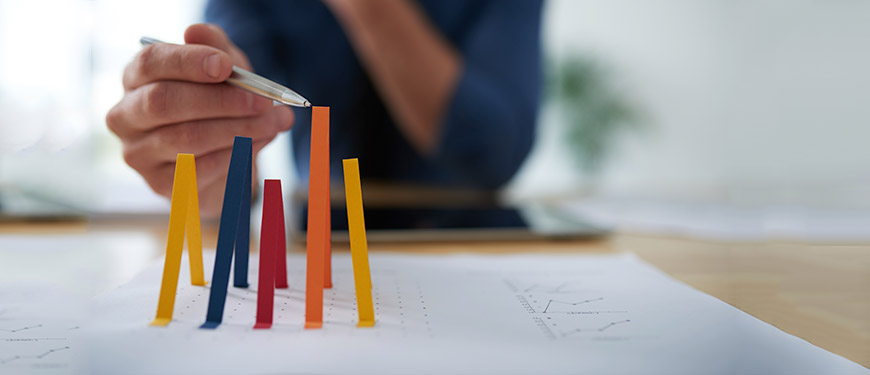 "Just like a diverse diet makes you feel good, a diverse mix of investments can help you weather fluctuations in the stock market."
When it comes to good health, you know to follow simple habits like eating well, exercising, and getting enough shut-eye. The same pattern applies to your investing style—when it comes to your financial health, there are a few important rules to follow too.
So if life gets busy (or you get caught up on trading activity), check back in on these five habits. They'll help keep your investing portfolio well-balanced and in tip-top shape.
1. Know your goals and strategy
It sounds almost too simple to be true, but your goals are the No. 1 driver of your investments. They'll help you decide on your asset mix, when to sell your investments, and how to manage your portfolio.
To determine your goals, ask yourself some of the following questions:
What am I saving and investing for?
When will I need access this money?
What else do I need to achieve my goal(s)?
Answers to these and other questions will help clarify your goals and form a solid investment strategy. For example, you'll likely have a different strategy for short-form goals (like renovating) and long-term goals (like retirement).
Tip: Remember that your goals can change over time. Just make sure to assess how that will impact your overall strategy.
2. Divvy up your assets
Asset allocation sounds scary, but it's quite simple. It involves separating your portfolio of investments into different categories like stocks or bonds. By balancing your portfolio, you help insulate it against sudden changes in the market.
The right mix of investment types make up an effective asset allocation. This is based on a number of factors, including:
age
timeline
goal(s)
risk tolerance
These factors can help you decide on your investment types—for example, how much of your portfolio will be made up of fixed income vs. equity? Like your goals and strategy, your asset allocation may change over time. This is especially so when you have major life events like buying a house, changing jobs, or adding a child to the family.
3. Rebalance your portfolio
As your investments move with market fluctuations, it can knock your portfolio off track and impact your goals. That's why it's important to periodically rebalance your portfolio, which means moving your money from one part of your portfolio to another (e.g. from bonds to equity funds, or vice versa).
"Just like a diverse diet makes you feel good, a diverse mix of investments can help you weather fluctuations in the stock market."
Rebalancing your portfolio helps bring your investments back to their original mix so they line up with your overalls goals and strategy. And while there's no set time to rebalance, most experts recommend once or twice per year.
4. Diversify your investments
Just like a diverse diet makes you feel good, a diverse mix of investments can help you weather fluctuations in the stock market. This means not having all your eggs in one basket (or in this case, stock or industry). Thankfully, it's easy to find a healthy mix of investments.
If you use private wealth management, your advisor is already doing this for you. If you focus heavily on online trading, many online brokers offer tools to help you find a good mix of investments.
Ready to start investing?
Complete our application and start investing online.
5. Understand how to manage your own investments
Managing your investments has never been simpler. Technology has brought real-time tools and resources once available only to the affluent to the masses.
While this can be a big help, it doesn't mean you can ignore sound wisdom in managing your investments. Here are a few things to keep in mind, whether you invest online or pay someone to manage your portfolio:
Get a sense of your fees. This can have a significant impact on your investing returns. If you actively trade, there are brokers who offer discounts or lower fees. If you hand off management to someone else, verify their fee structure.
Remember taxes play a role. Make sure you're aware of tax implications when setting up your portfolio, buying or selling funds, and when you're making other investing decisions.
Consider mitigating risk with stop orders. They can be tricky to understand, so make sure you're comfortable with placing them when managing risk.
Keep your goals and strategy top of mind. This includes your asset allocation, investment mix and portfolio rebalancing.
Portfolio management takes work, but by following a few simple habits, you can ensure you have a healthy investment portfolio that will work for you.
Looking for an online brokerage? Check out InvestorLine, and we'll help you get started.