Welcome to the BMO Online Banking tour. See how you can quickly and simply manage your
banking needs whenever you want and from wherever you are.
To learn more about the features and services available through Online Banking, simply click
on any button to get more information about that section.

100% Electronic Banking Guarantee for Personal Banking Customers
At BMO Bank of Montreal, we are committed to keeping your personal and banking information safe and secure. That is why we will reimburse you 100% for any losses to your Personal Banking accounts resulting from unauthorized transactions through Online Banking. To view full details of our electronic banking security guarantee and for more information on how BMO protects you when you bank online, please view our security guarantee.

Summary
If you've signed in with your BMO Debit Card, you'll land on the My Accounts page
where you can view a complete list of your BMO accounts:
Bank accounts
Credit cards
Loans & Mortgages
Investments
If you've signed in with your BMO MasterCard, you'll see your MasterCard information. By
clicking on your account, you can view all of your MasterCard transactions, requests and more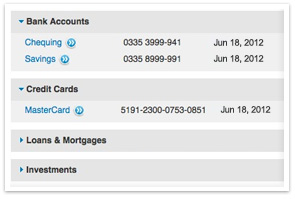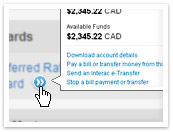 Transactions and requests
Access additional account transactions and requests by placing your mouse over the icon located beside the account name, or click on the account name on the left hand side, or on the account from the My Account Summary table.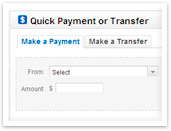 Quick bill payment and transfer box
Pay bills or transfer funds directly from your My Accounts page or click on "Add Another Payment" link to pay up to five bills at once.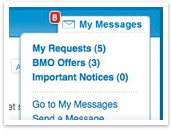 My Messages
From My Messages, you can easily send us a message, view important notices, BMO offers and epost mail. You can also see all the requests or messages you've sent to us.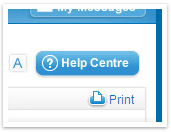 Help Centre
Helps you with any questions you may have regarding your accounts, the services we offer, Online Banking and more.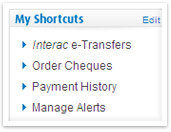 My Shortcuts
Set up and edit your shortcuts for quick access to pages you use most often in Online Banking.

My Accounts page provides you with a detailed and consolidated view of all of your accounts. When you
click on a specific account from the My Account Summary page, you'll be able to view your: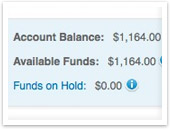 Chequing and Savings accounts
Get a detailed summary of your accounts including current balance, funds available, and view up to seven years of account statements online.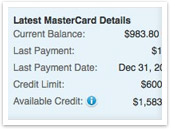 Credit Cards
See your account transactions, available credit, recent payment information and the type of reward program for your card. Additionally, you can view up to seven years of account statements online.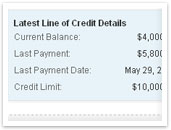 Line of Credit
View your Line of Credit information including the outstanding balance and access up to seven years of account statements online.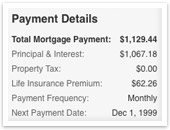 Mortgage
View your mortgage details including your annual mortgage summary, property tax account information and payment details.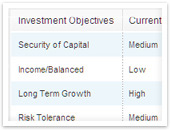 Tax-Free Savings, Registered Education Savings Plan (RESP) and Registered Disability Savings Plan
View investment details including your account transactions, investment mix and objectives.

Helpful Tips
Look for the information icon which provides additional tips on completing transactions.

Find the services you need without having to look for them. Just click on any account
listed on the left hand side and you'll see the range of transactions and services
applicable to your account:
Chequing or Savings accounts
Make a payment
Make a transfer
View eStatements
Stop a payment
Order cheques
Order travellers cheques and
foreign currency
Change statement options
Download account details
Credit Cards
Make a payment or transfer
View eStatements
Dispute a charge
Change credit limit
Set up a balance transfer
or pre-authorized payment
Change statement options
Request a statement copy
Download account details
Line of Credit
Make a payment or transfer
View eStatements
Change statement options
Download account details
Mortgage accounts
Make a lump sum payment
Increase your mortgage payment
Skip a payment

Helpful Tips
You can also pay a bill, transfer money and complete additional transactions by going to the Payments & Transfers tab.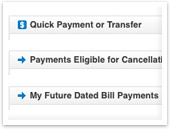 Important bill payment details at your fingertips
Pay your bills, cancel a payment you've made on the same day and view all your upcoming future dated bill payments in one place.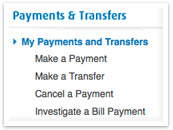 Simplified view of all your payments and transfers
Access a list of payment and transfer services from the menu located on the left hand side.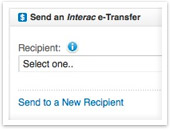 Easily Manage your
Interac e-Transfers
Send an Interac e-Transfer, send a reminder email, view or cancel your pending transfers all from one page.

Helpful Tips
Use the Quick Payment or Transfer box right on your My Accounts page to pay your bills or transfer funds
Look for our progress indicator used throughout Online Banking for requests and transactions to show where you are in the process. Once a step is completed, you'll see a checkmark
When managing your Payee list, use the Options dropdown menu to directly complete the bill payment without having to repeat steps. Information is also prefilled, so you don't have to duplicate anything

View and manage your payments and transfers in this section. You can:
Complete up to five bill payments at one time
Transfer funds between your BMO accounts
Cancel a payment
Investigate a bill payment
View and manage your future dated bill payments
Set up a recurring transfer
Cancel a recurring transfer
Manage your payee list, including setting up a nickname for each of your payees
View your payment history
View your session history

Helpful Tips
Cancel a payment directly from the My Payments & Transfers page without having to enter additional details
Payee is the term we've used to replace Biller, and refers to the company or organization you'd like to make a payment to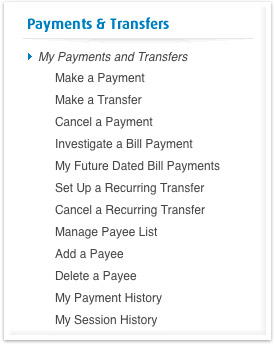 Send money to friends and family with an email address and a personal bank account in Canada quickly and securely. You can:
Send an Interac e-Transfer
Cancel your pending e-Transfers
Send a reminder email
View your Interac e-Transfer history
Manage your recipients
Learn how to receive an Interac e-Transfer

Helpful Tips
Send an Interac e-Transfer, send a reminder email, view or cancel your pending transfers all from one page.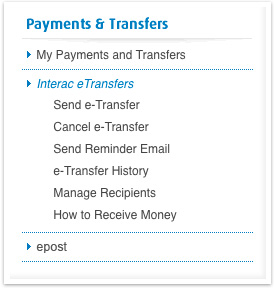 epostTM is Canada Post's free email delivery service that allows you to receive, view, pay and manage your bills and other financial documents through a single, secure email account. After you've signed up for an epost account, you'll be able to view your epost messages you receive in your epost mailbox through Online Banking.
You can also:
View your bills that you set up for epost through Online Banking
Pay these bills through Online Banking
Set up and edit your epost payee list
View a history of your epost messages
For more information and to sign up for an epost account, visit www.epost.ca.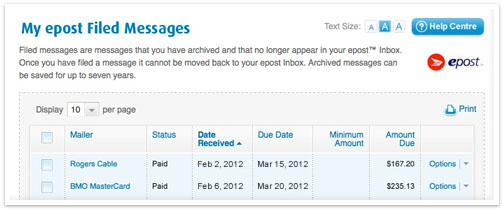 Take better control of the way you manage your money and reach your financial goals sooner by:
Consolidating your transactions from BMO accounts
Categorize your transactions
Search for specific transactions
Setting saving and spending goals
Create budgets
Receive personalized progress notifications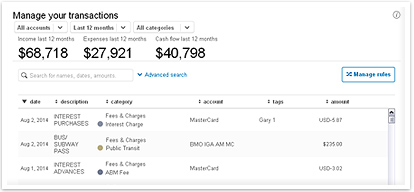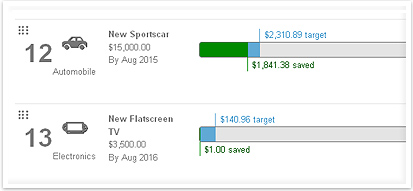 Tracking your spending habits
Track your transactions by category
Obtain detailed transaction reports
Receive in-depth spending analysis
Comparing your spending to the Community
Compare your income and expenses anonymously to others in
the Community.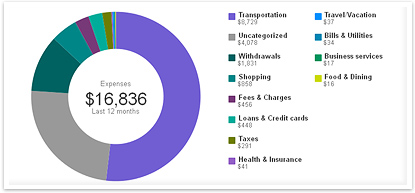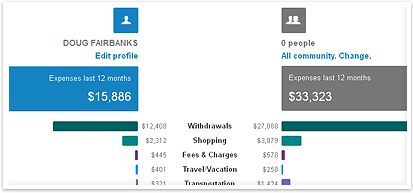 Budgeting wisely
View your monthly, weekly and daily activity
We analyze your expense patterns so you can see when you
spend the most
Monitoring your Net Worth
Calculate your total Net Worth
BMO accounts automatically show in your charts
Easily include items from other financial institutions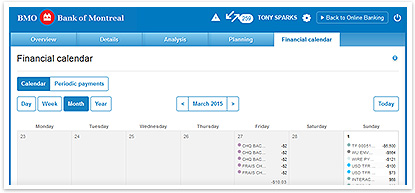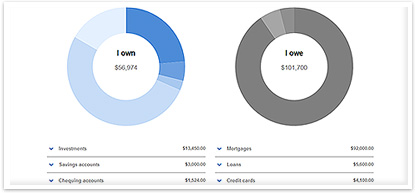 See a detailed view of your contact information. Manage and change your settings and preferences from the menu located on the left hand side under the My Profile & Preferences tab. You can:
View and change your contact information
Change your password
Change your security settings
Link your BMO accounts: Add accounts, including BMO Nesbitt Burns or BMOInvestorLine, to your Online Banking summary as well as accounts you'd like to access through Automated Bank Machines
Set up and edit your mobile preferences: – Select and manage the accounts you'd like to view on your mobile phone and choose a nickname to easily identify your accounts through mobile banking
Set up and manage your alerts – receive notifications of your account activity and when your eStatement is available to your mobile phone and personal email address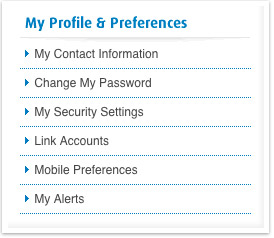 Helpful Tips
To edit your address information, just look for the blue button in the bottom right hand corner.

BMO Bank of Montreal offers a full range of products and services as well as helpful tools
and resources for your savings, investing and borrowing needs.
Chequing and Savings Accounts
See what accounts we offer
Open up to five Canadian and/or US accounts at one time
Use quick links to access other information and resources
Credit Cards
Take a look at the full range of credit cards offered by BMO
Learn more about our reward programs including
AIR MILES reward miles
We can help you choose a card that is right for you
Easily apply online
Mortgages and Loans
See how we can help with all your borrowing needs, like getting
a mortgage or a loan
Get information on our borrowing products
Learn about SmartSteps for Homeowners
Have a BMO Mobile Mortgage Specialist call you to review
and discuss your mortgage needs
Investments
Learn about the full range of investment products offered at BMO, including Guaranteed Investment Certificates (GICs), Mutual Funds, Retirement Savings Plans (RSPs), Tax-Free Savings Accounts and other savings options
Arrange to have an Investment Professional contact you to discuss your investment options and help you with your investment decisions
Get information on how you can purchase investment products directly online or by calling us