8 tips for keeping your kids safe online
We're spending more time online than ever, and our kids are no exception. As online learning and socializing increases, use these tips to help keep your kids safe on the Internet.

COVID-19 is keeping most of us at home these days – and that means kids are spending more time than ever on the Internet, with online learning and virtual social activities. While digital experiences can help kids learn and feel connected to their friends, you'll need to take extra care to make sure they're staying safe online.
In 2017 alone, there were 27,829 incidents of cybercrime reported by Canadian police services, according to Statistics Canada. Fraud was the most common crime across all age groups, accounting for 48% of reports.
With online fraud so common, it's essential to teach kids and teens about being safe online. Although they're tech savvy, kids can be more trusting and more easily tricked into giving up personal or financial information.
Here are some key tips to keep their personal information (and yours!) secure.
1. Start the conversation
Talking to your kids is the first step in making sure they're safe online. Luckily there are online tools to help you get the conversation going.
The website Safekids.com provides contracts for kids, teens and parents to sign as a way to commit to safe online practices. Each contract can be customized to suit your family's specific needs. For example, you may want to assign time restrictions for when your kids can go online or limit the exact URLs they can visit. Looking for something interactive and educational? Have your pre-teens take the SafeKids online safety quiz.
"Talking to your kids is the first step in making sure they're safe online. Luckily there are online tools to help you get the conversation going."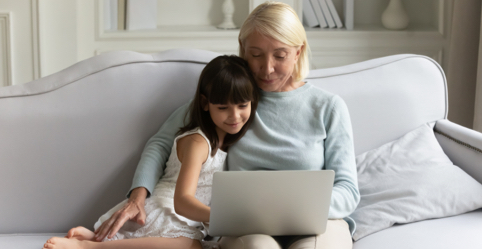 2. Teach your kids what not to share
Make sure your kids know exactly what they should never share: their home address, Social Insurance Number, password or account number. Let them know they shouldn't share any of that information on any platform, whether it's through a chat, email, text or other form of communication.
It's also a good idea to teach your kids safety precautions to take on social media, chat rooms and through text, where they may innocently reveal private information that could lead to fraud. For example, they should only accept friend and chat requests from people they know personally, and they should avoid quizzes and questionnaires that may gather personal data.
3. Show kids how to identify "iffy" items
Kids should avoid interacting with pop-up ads, websites asking for personal information, and downloads from people or sites they don't know.
Teach your kids to recognize legitimate sites. For example, they must see the letters "https" in the URL or a picture of a lock on a website that requests personal information.
4. Pick a safe online identity
Take some time to brainstorm a username and password together to ensure your child has a login that doesn't contain any identifying information and isn't simple enough for a hacker to guess.
It's best to create a password that's a mix of numbers, characters and letters (both upper and lowercase), and remind your kid never to share their password with anyone — even their close friends.
5. Make sure apps are secure
Always ensure your kids download apps from a reliable source, like Google Play or the App Store. It's also a good idea to review an app's privacy settings before downloading it – apps can be a lot of fun, but some may come at the cost of your personal information and phone security.
6. Put safety tools in place
Most browsers offer safe-searching features to help you block websites with questionable content. You can also consider adding parental control software, which lets you filter website categories, block personal information from being shared, and schedule times children can browse the Internet.
7. Amp up your protection level
Viruses and spyware can track online activity and access your information. Accidentally downloading them can harm your computer and help criminals access your personal data.
Your kids may not recognize a pop-up for spyware and could download it by mistake, so make sure your computer is secure. Installing anti-virus/malware and anti-spyware software will help protect you and your family.
8. Report any potential crimes
If you think you or your child has experienced online identity theft or any other Internet safety issues, report it. The RCMP recommends that you contact your local police, bank and credit card companies, the two national credit bureaus (Equifax Canada and TransUnion Canada), and the Canadian Anti-Fraud Centre.
Other online safety resources for kids and parents
Kids are growing up in a vast and ever-changing digital environment. And now that school and friendships have moved online as we stay at home, keeping on top of their online activity can seem overwhelming. Luckily, help is out there. Check out these resources for more tips and support:
Media Smarts is dedicated to digital and media literacy. It offers a range of resources dealing with common online safety issues for parents, including gaming, social media, cyberbullying and more.

NeedHelpNow.ca supports kids ages 13 to 17 who have been affected by cyberbullying. They can help remove inappropriate pictures of videos online, provide emotional support and offer tips for reporting criminal offences.

You can also find tips for staying safe online at Get Cyber Safe, a national public awareness campaign from the Government of Canada.
Staying safe online
Visit our Security Centre for more ways to protect yourself online.
Related articles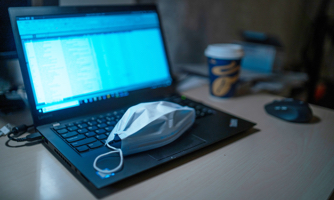 Cybercriminals are capitalizing on fear surrounding COVID-19 with several new phishing scams. Learn how you can keep yourself safe from coronavirus scams.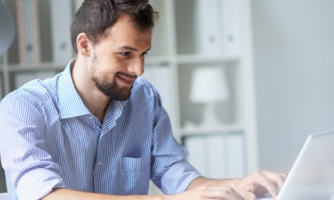 Need to travel for a business trip? Keep these tips in mind to make sure confidential information you carry with you is safe in transit.