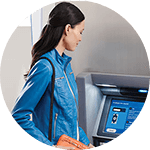 At a BMO ATM, you can easily withdraw cash, make deposits, get account balances, transfer money and pay bills. If you're a regular at a BMO ATM, make your visits even faster by creating shortcuts. Set up your ATM preferences, such as preferred language and Fast Cash amount, and they'll be remembered the next time you visit any BMO ATM.
Stay safe online
We suggest you change your BMO Online & Mobile Banking password and update your security questions every 90 days.
---
How to get started with ATM banking
Step 1
Customize your shortcuts. Once you enter your PIN, your shortcut buttons below the PIN field will be unlocked. Set up your shortcut preferences for routine transactions to save time. You can also go to the main menu by selecting 'Other Banking'.
Step 2
Set your language. You can choose English, French or Chinese as your primary language.
Step 3
Choose your fast cash option. Select the account you always want your Fast Cash withdrawal to come from. Then choose the amount you want every Fast Cash withdrawal to be. And finally you can choose whether you want to print a receipt or not.
---
FAQs for ATM banking
Where's the nearest BMO ATM?

You can find the nearest BMO ATM or branch with our

Locator

. Or use the BMO Mobile Banking app to find a BMO ATM or branch near you.

Can I use my BMO Debit Card at a non-BMO ATM?

You can use your BMO Debit Card to withdraw cash at any ATM in Canada with the Interac®§ symbol and throughout the world at any ATMs with the Maestro®*, Cirrus®* or Mastercard®* symbols. Extra fees will probably apply.
---
Now that you've set up ATM banking, take the next step