Are you a big saver looking for tax-free growth?
Earn 3.25%3 interest on new deposits in a BMO TFSA Savings Account.
Offer period: January 2 – March 15, 2019.
Come talk to us today. We'll help create a financial plan that's just right for you.
Tax-Free Savings Account (TFSA)
What is a TFSA?
A TFSA is a savings plan that lets you grow your money tax-free.
Mix things up.
You can fill your TFSA with a mix of savings and investments, like cash,
GICs
, stocks, bonds,
mutual funds
, and more.
Grow tax-free. You don't have to pay tax on any growth earned inside your TFSA, including interest, dividends and capital gains.
Know the limits. You can invest up to your TFSA contribution limit. This year, that's $6,000 but if you have unused contribution room from previous years, you may be able to invest more.
Get started. You just have to be the age of majority or older and a Canadian resident with a valid Social Insurance Number to open a TFSA.
Perfect for: Anyone looking for a flexible way to save for right now and down the road.
Numbers you need to know
$6,000

your 2019 TFSA contribution limit

$63,5001,2

your total possible room so far

69%

Total percentage of Canadians that own a TFSA
Top questions about TFSAs
Want to learn more about TFSAs?
What is the TFSA contribution limit?
The 2019 TFSA contribution limit is $6,000, plus any unused contribution room you may have accumulated based upon your eligibility.

Get carried away and you'll get hit with a penalty on the amount that's over the limit. On the flip side, if you invest less than the annual limit, the difference will roll over into the next year.
What can I invest in my TFSA?
Cash. You'll earn interest and can easily withdraw the money whenever you need it.
GICs. A low-risk investment with competitive returns that locks in your money for a set amount of time.
Market-linked GICs. BMO Progressive GICs offer peace of mind through principal protection and higher return potential than conventional GICs.
Mutual Funds. Pool your money with other investors in professionally managed portfolios.
ETFs. Buy shares of investment funds that trade on the stock exchange, with lower fees.
Stocks
*
and bonds. Pick options that fit your goals and how much risk you're okay with.
When can I withdraw from my TFSA?
Whenever! One of the best parts about a TFSA is that it's flexible, so you can save for something that's two years away or twenty. And unlike other investing options, you can withdraw from your TFSA without any extra taxes or penalties.
Helpful Tools and Resources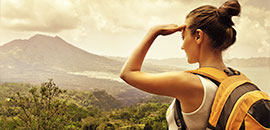 Is a TFSA right for your long-term goals?
A TFSA can help you reach your long-term goals, and even play a role in your retirement plans.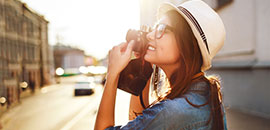 Can a TFSA help with short-term goals?
A TFSA can be a great solution when you're investing for a goal that's one to three years away.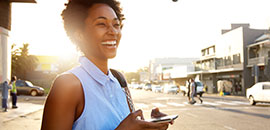 Understanding TFSAs: The basics
Not sure how a TFSA works? Brush up on the basics in just a few minutes
Already bank with BMO?
Sign in to open a TFSA or contribute to one you already have.
1
Any individual who is 18 years of age or older and who has a valid Social Insurance Number (SIN) is eligible to open a TFSA. For some provinces and territories, you must be age 19, the age of majority, to open a TFSA. In these jurisdictions, a person turning 18 years of age who would otherwise be eligible accumulate TFSA contribution room for that year and carries it over to the following year. Visit the Canada Revenue Agency website at
cra.gc.ca
for details.
2 Assumes you are a Canadian resident from 2009 to 2019 and eligible to contribute each year to a TFSA and have not made any redemptions. The contribution limits vary as follows: 2009 – 2012: $5,000 per year; 2013 and 2014: $5,500 per year, 2015: $10,000; 2016, 2017, and 2018: $5,500 per year; 2019: $6,000.
*Only stocks traded on publicly traded exchange
3
Interest rates are per annum. The interest rate of 3.25% is comprised of the posted interest rate of 0.75% plus a bonus interest rate of 2.50%. Interest rates are provided for information purposes only and are subject to change at any time without notice. Current interest rates are available in BMO branches where TFSA Savings Accounts are available, at
bmo.com/rates
or by calling
1-877-225-5266
. The posted interest rate applies to the entire balance in your TFSA Savings Account. The bonus interest rate only applies to the portion of the balance in your TFSA Savings Account that exceeds the closing balance as of January 1, 2019 and any new cash deposits made between January 2, 2019 – March 15, 2019 (the "offer period"). The posted interest and the bonus interest are each calculated on the daily closing balance and payable monthly as of the last day of the month. The bonus interest rate offer may be changed or withdrawn at any time without notice. Once the offer period has ended the interest rate returns to the posted rate. All investments in a BMO TFSA Savings Account are subject to the applicable account terms and conditions.