Couples save up to $
180

/year1 in fees

Bank together. Keep your privacy. Transfer funds easily.

As a couple, you can save up to $180 a year in fees1 by opening joint and/or individual bank accounts under one plan — and paying just one monthly fee. See how PlanShare can help you and your significant other save money and better manage your finances2.
---
Watch the video to find out how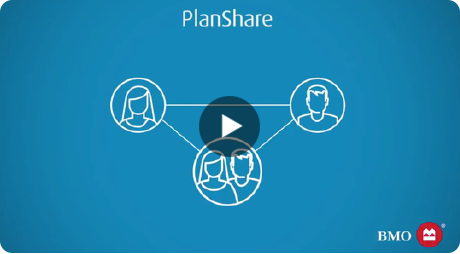 ---
With PlanShare
you'll be able to...
Save on fees
Pay just one monthly fee for multiple accounts and have more money for date nights.
---
Keep your privacy
The privacy of your individual accounts is maintained, so they'll never know about that surprise birthday present.
---
Transfer funds easily
Easily transfer funds between your joint and individual accounts.
---
---
How do you want to organize your accounts?
Find the banking style that works best for your relationship. Choose from three flexible options.
Individual accounts


For couples in newer relationships or for those who share just a few expenses.
Joint accounts


For couples in established relationships, who rely on one main income or put one person in charge of finances.
Mix of joint and individual accounts
For couples in more established relationships, living together or sharing most expenses while also wanting to maintain some financial independence.
---
---
For illustration purposes only. The savings of $

180

assumes the following: (i) one monthly

Performance Plan

fee of $

14.95

per month ($

180

.00 per year) is shared between you and your spouse or partner, rather than each person paying a separate monthly Plan fee of $

14.95

, (ii) no other per-item or over-limit transaction fees apply, and (iii) the account is not eligible for the monthly balance Plan fee waiver during the twelve-month period.
PlanShare applies to common-law partners or married spouses who are living at the same address. Couples can add their spouse/partner's account(s) to a Bank Plan at no extra monthly Plan fee.