---
---
---
What's included in the all-inclusive fee:
Online investment and portfolio management advice (what to buy and sell).
Prescribed number of trades with higher asset balances including more trades.
Assessment of your portfolio and investment objectives.
Continuous monitoring of your portfolio.
Proactive notifications alerting you of changes within your portfolio and the action required.
Access to third-party equity, Exchange Traded Fund (ETF) and mutual fund research.
Access to a dedicated team of specialized adviceDirect Investment Specialists who can discuss investment decisions and strategies with you.
Annual review of your portfolio and performance.
Consultation calls to refer to other areas within BMO Financial Group to address other wealth management needs.
Development of your investor profile.
---
---
Fees and trade guide
One of the main benefits of paying an advisory fee instead of commissions on each transaction is the upfront, simplicity of fees and on an annual basis you know how much you're paying and what investment services you're paying for.
You're also able to link all of your adviceDirect accounts together to benefit from tiered pricing based on your total assets. The annual fee may be tax-deductible in non-registered accounts (clients are urged to seek the advice of a tax accountant to determine eligibility).
---
Billable assets include:
equities
fixed income
ETFs
cash equivalents (i.e.: fixed income instruments with less than one year to maturity)
Non-billable assets include:
cash
most mutual funds
money market funds
---
Tiered fee schedule
Minimum asset level is $50,000.
Minimum fee is $750 (for billable asset balances between $50,000 - $100,000.00).
Maximum fee of $3,750 will apply for asset balances greater than $500,000.00 (ie: no incremental fees).
For billable assets between $100,000 and $500,000 fees are calculated as 0.75% x billable asset balance.
| For total billable assets of: | Fee per Annum |
| --- | --- |
| $50,000.00 to $100,000.00 | $750 flat fee |
| or $100,000.01 to $500,000.00 | 0.75% x billable assets |
| or $500,000.01 and up | $3,750 maximum fee |
---
Closing fees
adviceDirect accounts can only be closed by an adviceDirect Investment Specialist. When you close your account you will be required to pay any accrued unpaid advisory fees. Any outstanding Excess Trade Charges will be collected separately. These fees and charges are subject to GST, QST and/or HST where applicable.
---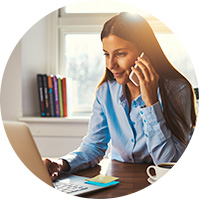 Prefer to invest on your own without advice?
BMO InvestorLine Self-Directed fees are some of the most competitive in the industry.
---
Investment types
With adviceDirect, you can select from various types of investments including: equities, mutual funds, fixed income products and ETFs.
---
Equities & Options
Equities
Through adviceDirect you will have access to equities trading on the major North American exchanges.
adviceDirect will provide you with equity recommendations based on ratings from Marketgrader, an independent research provider that rates over 6,000 North American securities. Buy recommendations can be focused on U.S. markets, Canadian markets, or both.
Recommendations can also be filtered by market capitalization to allow clients greater flexibility to find the right small, mid, or large cap company to suit their needs. Marketgrader's ratings are based on a proprietary quantitative system which analyzes 24 fundamental aspects in determining a company's value.
Exchange Traded Funds
Exchange Traded Funds (ETFs)
Get up to 60 personal buy and sell ETF recommendations for both equity and fixed income that are tailored to your portfolio. ETFs are issued a "buy", "hold" or "sell" rating based on an in-depth analysis of the security. The research and ratings are provided by Morningstar.
Important legal notice: Commissions, trailing commissions, management fees and expenses all may be associated with exchange traded funds/mutual fund investments. Please read the prospectus before investing. Exchange Traded Funds/Mutual funds are not guaranteed, their values change frequently and past performance may not be repeated.
Mutual Funds
Mutual Funds
Access over 3,200 Canadian mutual funds. To assist you in identifying funds to invest in, adviceDirect provides you with Morningstar research and ratings system. You'll also be able to use filters and search tools to find specific funds you're interested in.
Fixed Income
Fixed Income
Search from our list of Canadian or U.S. fixed income products, including GICs, fixed income ETFs and mutual funds, bonds, debentures and money market instruments online. Access ratings and recommendations for fixed income. All bonds recommendations are investment grade A+ or above.
Guaranteed Investment Certificates
Guaranteed Investment Certificates (GICs)
Simple and convenient, adviceDirect one-year cashable GICs are fully cashable (with accrued interest) after 30 days. The minimum purchase amount for cashable GICs is $10,000.
Minimum purchase amount
| Term | Minimum Purchase |
| --- | --- |
| 1 year and cashables | $10,000 |
| 2 year | $5,000 |
| 3 year | $5,000 |
| 4 year | $5,000 |
| 5 year | $5,000 |
---
Account Types
We offer a wide range of account types to meet your individual, non-personal or retirement account needs.
---
Individual
For individual or joint accounts
Non-personal
For corporations, sole proprietorships, partnerships, investment clubs, societies or churches, trusts or estates.
---
Savings
Locked-in Retirement Plans
Locked-in Retirement Accounts (LIRA)
Locked-in Retirement Savings Plans (LRSP)
Restricted Locked-in Retirement Savings Plans (RLSP)
LRSPs are used for funds legislated in
British Columbia
Nova Scotia
Prince Edward Island
Yukon
Northwest Territories
Federally (regardless of province)
LRSPs are used for funds legislated in
Alberta
Saskatchewan
Manitoba
Ontario
Quebec
New Brunswick
Newfoundland
Self-directed RRSPs:
Retirement Savings Plans (RSP)
Spousal RSP
Registered Education Savings Plan (RESP)
For individual or family accounts
Tax-Free Savings Account (TFSA)
For individual Tax-Free Savings Accounts
Income
Retirement Income Account (RRIFs)
Retirement Income Accounts provide you with income from a tax-sheltered account during your retirement years (your retirement savings accounts can be converted to one of the appropriate options below).
Self-directed RRIFs
Retirement Income Funds (RIF)
Spouse/Common-law partner RIFs
Life Income Funds (LIF)
Prescribed Retirement Income Funds (PRIF) [Saskatchewan and Manitoba regulated]
Locked-in Retirement Plans
Locked-in Retirement Income Funds (LRIF)
Restricted Locked-in Retirement Income Funds (RLIF) [Federally regulated]
---
Connect with an adviceDirect Representative or open an account
Get started today
Sign up for adviceDirect now by completing our 10-step secure application
Open an account