Protecting yourself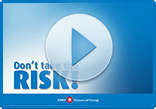 When you connect to the Internet, the Internet also connects back to you. Even before you connect to the Bank's web site, someone out there could potentially get access to your computer. Also, as you surf the Internet, there is a trail of information left behind.

Decrease your chances of being hacked by following the tips in our 'Don't Take the Risk!' video.
BMO Financial Group is providing you with the information contained on these Security pages for your personal use only on the understanding that you agree that BMO Financial Group has no liability to you for providing you with this information, whether or not you rely on it. BMO Financial Group does not guarantee the accuracy or completeness of the information. Links from this Website to other Websites, or references to products, services or publications other than those of BMO Financial Group, do not imply the endorsement or approval of such Websites, products, services or publications by BMO Financial Group.

Our promise:
We will reimburse
you 100% for any losses to your Personal Banking accounts resulting from unauthorized transactions through Online and Mobile Banking.