Product Responsibility
Our Approach
At BMO, we promise all of our customers a great experience and the clarity they're looking for to help them make the right financial decisions. We ensure that all new products and services align with consumer protection laws and regulations, BMO's Code of Conduct as well as voluntary codes of conduct. And we aim to make it easier for customers to do business with us through an integrated national network of BMO Bank of Montreal branches, telephone banking, online banking and ATMs, along with the expertise of our mortgage specialists and financial planners.
Responsible Products/Services
---
BMO offers the BMO Eco Smart Mortgage, a 5-year, fixed closed mortgage with a market-leading rate, to reward customers for making smart choices for their home and the environment. To qualify, a home must meet the energy-efficiency criteria outlined in the BMO Eco Smart Mortgage checklist, as confirmed by a third-party appraiser or energy auditor arranged by BMO.
For further information or to download the checklist, go to: BMO Eco Smart Mortgage
---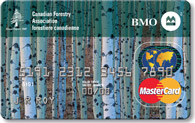 BMO Canadian Forestry Association MasterCard
BMO MasterCard offers affinity cards that are dedicated to environmental and social associations. Every time the affinity card is used to make a purchase, BMO makes a payment to the association at no additional cost to the customer. For information on BMO's affinity cards, go to: Affinity Cards
Back to top