How to get a business loan in 5 easy steps
Getting a loan for a business can be challenging. Let's break down the process and guide you along the way.

Whether you're starting a business or are a seasoned business owner, at some point, you may need extra capital. Getting a loan for a business can provide much-needed funding to launch new projects, expand your business and do new things you wouldn't be able to do without such resources. The business loan process can be challenging, especially if your business is new or small. In this guide, we cover types of business loans and break down how to get a business loan in five steps.
What is a business loan?
A business loan provides capital to business owners in the form of borrowed money that must be paid back. As part of the repayment process, business owners pay interest on the business loan. Given the name, it must be used for business purposes and, depending on the type, may be used for specific purposes such as equipment purchases.
There are various types of business loans offered by lenders with different repayment terms and eligibility requirements.
What are the different types of business loans?
Getting a loan for a business requires finding the right lender for your needs. Two lending options to be aware of include:
Government loans (SBA)
The Small Business Administration partners with financial institutions such as BMO to help make loans available to small businesses and guarantees a portion of the loan, allowing for attractive rates and terms. These loans are distributed by the bank and repayment is managed by the bank as well.
The SBA partnership makes it easier for financial institutions to lend to small business owners, but much of the processes are handled by the bank directly. Here are some types and features of SBA loans:
7(a) loans may have low fees and limits on interest rates. The name refers to the section of the Small Business Act that kickstarted this loan process.
504 loans are types of business loans designed for the purchase of commercial real estate, equipment and machinery and have fixed interest rates. Funding may be up to $5 million.
Microloans

 offer up to $50,000 in funding to help build or grow your business. These are available through intermediary lenders, some of which are BMO partners, including Allies for Community Business and the Wisconsin Women's Business Initiative Corporation.
Conventional loans
You can also get a conventional business loan from a financial institution such as BMO, which:
Wherever you're at in your journey, there are options and resources available. To help make the business loan process easier, here's a step-by-step guide on how to get a business loan.
"Getting a loan for a business requires finding the right lender for your needs."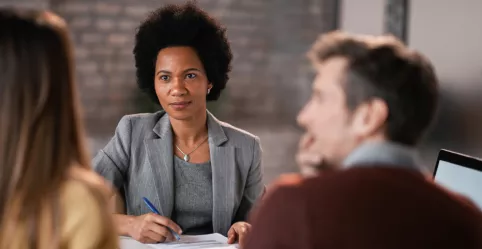 Step 1: Assess your business needs
Getting business financing can help you obtain the capital you need to make things happen. Be clear on what the funding will be used for and what amount you're looking for.
Will this help launch a new business or help with inventory or cash flow for an established business? Understanding your business needs can help you choose the right type of business loan.
To calculate your prospective loan payment, plus how much interest you might pay under various scenarios, input your numbers using the Business Loan Estimator.
Step 2: Evaluate types of business loans
After assessing your business needs, evaluate the types of business loans offered to match your needs.
If you need a small burst of capital, a microloan may make the most sense. If you need a larger lump sum of cash, you may get a bank loan for small business. These types of business loans are generally installment loans that you pay back over a defined period of time with fixed monthly payments.
If you need to bridge cash flow gaps, a business line of credit may be a good option. This type of business financing is a revolving line of credit. That means you'll get approved for a preset credit limit, can draw upon available funds, and pay the money back with interest on a variable schedule.
Step 3: Review eligibility requirements
Each business lender will have their own eligibility requirements to obtain a business loan. To qualify for a business loan, you likely need a good credit score.
FICO, which is a popular credit-scoring model, defines "good" as a credit score between 670 to 739. Anything above that may put you in a better position to obtain a loan and may help you get a competitive interest rate.
Typically, lenders tend to have a minimum credit score requirement of 680, though this may vary by loan type. Both your personal and business credit scores may be reviewed as part of your application. On top of your credit, lenders may look at these other factors:
Business revenue: Your lender wants to evaluate the health of your business and make sure you have enough positive cash flow to afford the monthly payments on your loan. Each lender may have different minimum revenue requirements. Consider your revenue when thinking of your loan amount. For a lender, an ideal debt-to-income ratio is less than 36 percent.
Length of time in business: Your business history or the length of time you've been in business is also a factor in the lending process. Generally, you need to be in business for a minimum of two years to qualify for a conventional loan, though some lenders may have a minimum of one year. If you're a new business or have been in business less than two years, an SBA loan may be an option.
Bank statements or other financial documents: Getting a loan for a business requires you to provide your business and personal financial records. These documents may include tax returns, bank statements, profit and loss statements, projections for the future and more. For example, SBA loans require applicants to submit a personal financial statement and three years of business financial statements.
The size and location of your business: For an SBA loan, you need to meet business size standards to qualify as a small business. Additionally, your location may matter as well, as some lenders may only provide business loans in certain states.
Type of business and how it operates: No two businesses are the same. Your prospective lender will review the type of business you have and how it earns income.
Collateral options: As part of the business loan process, you may need to pledge collateral to back the loan. This may be a physical asset, like a commercial real estate, vehicle or equipment.
Step 4: Collect your business documents
Once you assess your needs and review the type of loans and the eligibility requirements, start collecting your business documents to apply for a business loan.
To apply for a BMO business loan, you'll need various documents including:
Articles of incorporation or other business formation documents
Collateral information

Business plan (for SBA loans)

2 or more years of financial projections (for SBA loans)

Business tax return
Personal tax return
Other documents as needed
For a full list of requirements, review this business loan application checklist. If in agriculture, review this agricultural lending application checklist.
Step 5: Apply for a business loan
After gathering the appropriate documents, it's time to apply for a bank loan for your small business. At BMO, to get the process started you can contact a business banker.
Make sure you have all items listed in the checklist to help expedite your application. That way the lending process is streamlined and you can get the funds you need in a timely manner. We strive to handle your loan request efficiently from application to closing, so you can focus on what really matters – growing your business.
Ready to get started?
Take the next step to get a business loan or line of credit.
Helpful tools
Crunch the numbers and find out what your business loan payments could be.
Uncover the loan approval process and the factors that make up lending decisions.
Related articles

As your business grows, chances are you'll need to obtain a loan, line of credit or credit card to help finance your expenses.
Your credit score can sometimes seem like a mystery. Get a better understanding of the factors influencing your score and get helpful tips for improving your credit rating.