The best time to start planning for your estate is today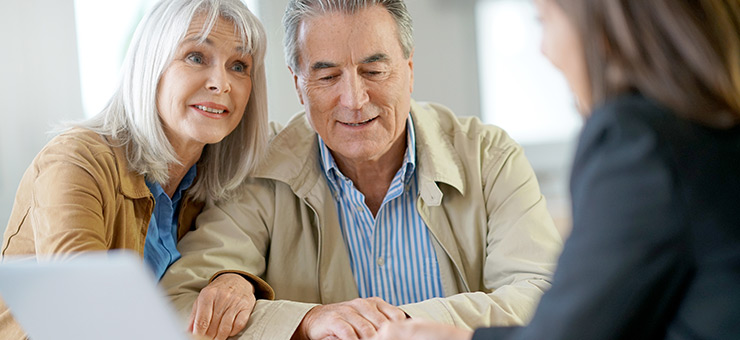 The best time to start planning for your estate is today
With the help of our BMO Private Banking Team, you and your family can have confidence in the future.
Let us contact you
The best time to start planning for your estate is today
The 2016 Canadian Census reports indicate that the greying of Canada's population is accelerating. For the first time in Census history, seniors now outnumber children. Looking ahead, population projections show the gap between the two age groups will continue to widen. By 2031, almost one in four Canadians will be 65 or older1.
One of the takeaways for Canadians in light of these trends is that a growing segment of the population should be making sure their affairs are in order. That's what estate planning is — a process that helps you answer questions like:
Who will get what when I'm gone?
Can I preserve even more of my wealth for my heirs?
Can my assets — financial, digital, mementos, heirlooms — be easily located?
How can I make things easier for my loved ones during a difficult period?
Who will ensure that my ultimate wishes are carried out after my death?
Why you need an estate plan
Having a properly drafted will is the cornerstone of an estate plan. But as your financial affairs become more complex, the need for more holistic planning grows. If you have children, philanthropic goals and valuable assets (like your investments, business or vacation home), you need a comprehensive estate plan to make sure the wealth you've worked hard to build is distributed according to your wishes. On top of that, an estate plan can help reduce the potential costs and delays involved in settling your estate, such as final taxes and probate.
Depending on your unique situation, there are different ways to achieve your estate planning goals, including wills, beneficiary designations, powers of attorney, insurance, trusts, tax planning, and charitable gifts and foundations.
Taking the right steps for your situation might involve something as straightforward as ensuring the beneficiaries on your life insurance policies are up-to-date, so that any funds paid out by these policies go directly to your intended beneficiaries (and are not included as part of your estate, which can reduce probate fees2). Or your strategies might be more complex, such as setting up a trust to hold property or assets. A trust can help protect and preserve assets being transferred to beneficiaries, especially in cases where there may be special needs or spendthrift concerns.
Tip: Consider naming a professional, such as a lawyer, accountant, or trust company, to act as co-executor of your estate. This way, your personal executor can focus on dealing with family members and beneficiaries, while a professional will take care of the technical and time-consuming administrative duties.
When to start (and review) your estate plan
The best time to review and revise your estate plan is when you are in relatively good health. Indeed, an important step in comprehensive estate planning involves planning for uncertainties and incapacity, such as changes to your health and well-being. That means having the right documents in place — including powers of attorney — to ensure your financial and health decisions are taken care of in the event that you're unable to do so.
Keep in mind that estate planning is an ongoing process that should be revisited as your life circumstances change, your children grow, your assets become more complex, your goals evolve, and even as technology and society changes. Passing on your digital assets, for instance, is something you'll need to consider.
Circumstances that call for a review of your estate plan
Death of spouse
Marriage or remarriage
Birth of a child or grandchild
Death of a beneficiary
Purchase or sale of a business
Beneficiary with special needs will receive a share of the estate (this requires special trust planning)
Executor named in Will predeceases you
Purchase of foreign property
We can help guide you through the process
A BMO Private Banking Relationship Manager can help you navigate the estate planning process, connect you with the appropriate specialists when you need them, and give comfort and peace of mind to both you and your family.
---
CONTACT US
---
Let's have a conversation about how our
BMO Private Banking
services can help you and your family.