Generational responsibilities? Don't overlook your day-to-day finances, including succession and estate planning.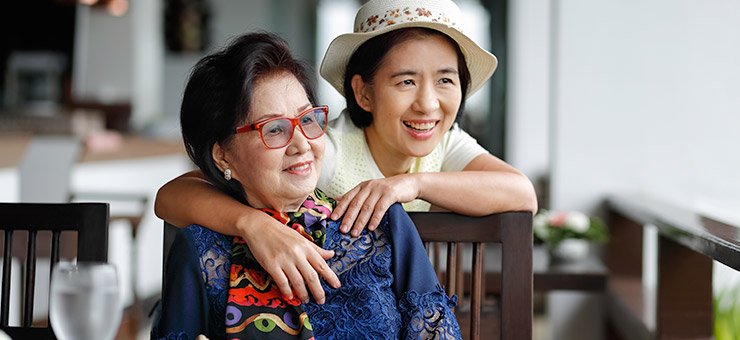 Generational responsibilities? Don't overlook your day-to-day finances, including succession and estate planning.
With the help of our BMO Private Banking Team, you and your family can have confidence in the future.
Let us contact you
Creating a broader wealth plan is essential to your family's overall well-being.
By: Linda Grande, Regional Director, Banking, BMO Private Banking
With a busy family life, time can be a rare commodity. Add in the increasing dependence of elderly parents, and it can take "time-challenged" to a whole new level – not to mention your finances.
At this stage of life you might have a lot of needs to take care of – from providing your aging parents with transportation to doctors' appointments to helping your children make the move to college or university.
While your loved ones' immediate needs are likely to come first, it's important to remember that managing your day-to-day finances and creating a comprehensive wealth plan is also essential to your family's overall well-being. Working with a Private Banking professional is one way to better look after your family's immediate and ongoing needs.
Day-to-day finances
Ironically, one of the commonly overlooked financial management steps for caregivers is one of the most basic – managing day-to-day finances. When everyday tasks like paying bills aren't completed on time, it not only complicates your life but it may eventually harm your finances and credit rating.
Consider setting up online services to pay bills automatically with pre-authorized and post-dated payments. This simple step helps to ensure that you're ahead of the payment game, not behind it.
If you're helping your parents manage their finances. BMO Trust Company's Continuity program can provide customized daily financial management on your parents' behalf. A dedicated Private Banking professional can look after their bill payments, income tax preparation and investment management as well as provide banking and concierge services.
Powers of Attorney and Estate Administration services are also available under the Continuity program, so you can be confident that your parents' affairs will continue to be effectively managed under all circumstances.
Think of the longer term, too
When you're time-stressed in the short term, it can be challenging to think of long-term financial planning. But your needs, your situation and your business affairs continue to evolve, and any unmet needs may not be evident. Simply put, you don't know what you don't know – and that's where a conversation with a Private Banking professional can help.
You could be missing out on effective strategies or opportunities in both your personal and business planning. For example, your business may have evolved to the point where a holding company structure could provide significant tax and income advantages. On the personal side, you may be within 10 or 15 years (or less) of your own retirement – a time when succession planning may be critical, especially if you own a business.
You may also have let your own estate planning objectives slip a bit. For instance, who would oversee the care of your parents if something were to happen to you? The Will you put in place 10 years ago may no longer reflect your current situation.
A Private Banking professional will take the time to gather essential information about your objectives and opportunities, develop recommendations and ensure your plan evolves as your life changes.
Whether you start with one piece of your plan or take a more comprehensive approach, the key at this time-stretched period of your life is simply to make that first move. A small investment of time today can ensure that important longer-term financial objectives and needs are addressed.
The place to start? Right here
Whether you need help with day-to-day financial management or longer-term planning, it all starts with a conversation, so talk to us. Your BMO Private Banking professional can play a key role in coordinating and carrying out the services that you and your family may need.
All opinions and estimates contained in this communication are subject to change without notice and are provided in good faith but without legal responsibility.
This report is not an offer to sell or a solicitation of an offer to buy any securities. This material is prepared for general circulation and does not have regard to the particular circumstances or needs of any specific person who may read it.
Nothing contained herein shall result in liability or consequential loss arising from any use of this report or the information contained herein. This report may not be reproduced, distributed or published by any recipient hereof for any purpose.
The comments contained herein do not constitute advice in the areas of legal, accounting or tax. It is your responsibility to consult with the appropriate professionals in those areas either independently or in conjunction with this assessment process.
The comments included in this publication are not intended to be a definitive analysis of tax applicability or trust and estate law. The comments contained herein are general in nature and professional advice regarding an individual's particular tax position should be obtained in respect of any person's specific circumstances.
BMO Private Banking is part of BMO Wealth Management and is a brand name under which banking services are offered through Bank of Montreal, investment management services are offered through BMO Private Investment Counsel Inc., a wholly-owned indirect subsidiary of Bank of Montreal, and estate, trust, planning and custodial services are offered through BMO Trust Company, a wholly-owned subsidiary of Bank of Montreal. BMO Wealth Management is a brand name that refers to Bank of Montreal and certain of its affiliates in providing wealth management products and services.
BMO (M-bar roundel symbol), BMO Private Banking registered trademarks, and BMO Wealth Management trademark are owned by Bank of Montreal, used under license.
CONTACT US
---
Let's have a conversation about how our
BMO Private Banking
services can help you and your family.