We start by learning about you. When we begin our relationship, we work with you to get an in-depth understanding of your goals and priorities relating to your family, work, lifestyle and money.
By understanding who you are and what matters to you most, we strive to provide advice that will make a positive difference on your life and the life of your family.
Contact Us

Call 1-855-834-2558
---
---
THE CENTRE OF OUR APPROACH
---
We work with you to understand and address your immediate needs and prioritize your goals.
Your dedicated professional will work with you to build your wealth plan based on what they learn from you.
Together, we take action on your wealth plan and regularly revisit to make sure that it always reflects your situation.
We're here for you. You have a dedicated team of professionals to help you achieve your goals.

Your family is our focus. We get to know your story so we can consistently serve you and your family over time.

We help save you time and reduce your worry. We take care of your financial matters so you don't have to.
---
---
OUR TEAM APPROACH
---
Your BMO Private Banking team is part of a bigger picture. We can draw on truly global resources and
almost 200 years of wealth management experience to help you achieve your goals. We can also collaborate
with your existing network of tax, legal and other advisors.
---
OUR EXECUTIVE TEAM
---
Combining expertise, passion and experience, our executive team promotes a collaborative, client-centred culture to ensure successful outcomes for all our clients.
---
Contact Us
---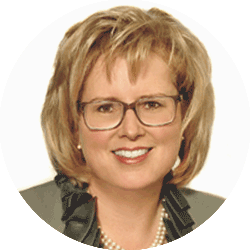 MYRA CRIDLAND
Senior Vice-President and Head of the BMO Private Banking, Canada and Asia, business
Myra Cridland is Senior Vice-President and Head of BMO Private Banking, Canada and Asia. She is responsible for ensuring an exceptional client experience through the strategic delivery and development of BMO Financial Group's private banking strategy in Canada and Asia. Myra leads a team of more than 800 professionals who provide expert advice and highly personalized services in banking, investment management, estate, trust, succession planning and philanthropic services.
---
Regional Leadership
Our Regional Vice-Presidents implement the BMO Private Banking business strategy in their respective regions, each leading a team of expert, specialized professionals who deliver exceptional client experiences for affluent individuals and families, business owners and entrepreneurs and professionals and executives.
---
National Office Leadership
Our National Office leaders set the business and product strategies for our Platinum Banking, Investment Management and Trust and Estate services, striving for an exceptional experience for our clients and their families at all stages of their lives.
---
CONTACT US
---
Let's have a conversation about how our
BMO Private Banking
services can help you and your family.