Home Equity Loan Plan
Turn your home equity into cash. A Home Equity Loan Plan lets you use your home as collateral to borrow up to 80% of its current value minus what you owe. It's perfect for your larger purchasing or renovation needs for a vacation home.
A minimum loan amount of $10,000
Repayment period up to 25 years
Fixed interest rate with flexible repayment schedule. Choose monthly, semi-monthly, bi-weekly or weekly
Allows for flexible repayment
Defer one month's payment up to 2 times a year1
1 Some conditions apply.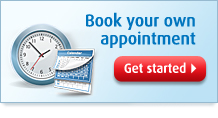 Mortgage Rates
5 year Low Rate (closed) Special Rate

%*

Prime Rate
Prime Rate
%