Foreign Currency
Buy before you go and save on fees and surcharges
Visit your local BMO Bank of Montreal branch to purchase more than 100 different currencies.
Take advantage of fair exchange rates—often better than at airports and foreign exchange outlets
Avoid trips to banks and searches for currency exchanges when travelling
Call your branch
or go online to order up to $2,000 (Canadian) in U.S. dollars, British pounds sterling or Euros and have it delivered to you within 7 business days (courier fees apply).
Order currency now.
Call 1-800-363-9992 to order your foreign currency today.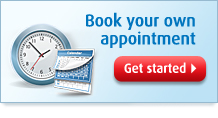 Smart Saver Account
%
Premium Rate Savings Account
%