Youth & Student Banking
Whether you're a kid, teen, student or recent graduate, banking should be simple. And it should be free. With BMO, it is.
Kids (up to age 12)

It's not too early to teach your child the basics of banking. BMO can help.

Students (ages 19+)

BMO provides you with smarter ways to save, spend and manage your money as a student.

Teens (ages 13-18)

Take advantage of FREE banking with BMO and a FREE SPC Card offering discounts from your favourite retailers.
1 Applies to the Kids, Teens and Students Discount Programs in the Plus Plan when a Primary Chequing or Premium Rate Savings account is opened. Recent Post Secondary School Graduates are eligible for one year of free banking under the Student Discount Program. Customer is responsible for all the fees of any transactions, services and products not included in the Everyday Banking Plan.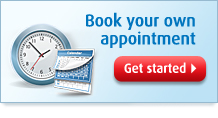 Smart Saver Account
%
Premium Rate Savings Account
%