BMO® CashBack® World MasterCard®*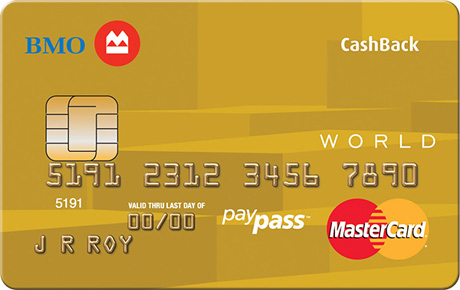 Earn CashBack faster.
Earn 1.25% CashBack rewards on your credit card purchases
2A
.
Minimum $60,000 (individual) or $100,000 (household) annual
Earn CashBack rewards on all card purchases to a maximum monthly spend of $7,000*.
The BMO CashBack World MasterCard Gets You...
Complementary Roadside Assistance Program
Includes free battery boosts, flat-tire change, lockout service and towing (a $69/year value)19.
Earn more CashBack
Triple your CashBack when you use your card at Shell20. Plus get up to 25% discount at National Car Rental and Alamo Rent A Car25.
BMO Concierge Service
Expert guidance on dining, entertainment and leisure with 24/7access by calling 1-800-741-6758.
Features
Credit Card Benefits
Explore our world-class features that save you time and money.
Credit Card Benefits
The 1.25% Annual Cash Rebate2
1.25% CashBack on all purchases2A. With a $500 monthly spend you get an annual CashBack rebate of $75
More Savings on the Roads
Get up to 25% off rentals at National Car Rental ®#† and Alamo Rent A Car ®#† at participating locations25
Features of Every Card
Extended Warranty
Save the cost of buying optional extended warranty insurance on your next purchase by paying with your BMO credit card. This coverage doubles the original manufacturer's warranty period up to a maximum of one additional year7.
Purchase Protection
Get added protection – items bought with your card are automatically insured against theft or damage for 90 days from date of purchase7.
Zero Dollar Liability30
Get free protection from both theft and fraudulent use of your card. If your card is used without your authorization, you will not be liable if:
You did not contribute to the unauthorized use
You used reasonable care to safeguard your card and PIN
You notify us by telephone within 24 hours if you learn of the loss, theft or misuse of your card or cheques, or after you suspected that someone else knows your PIN
You have not reported two or more unauthorized transactions in the last 12 months, and your account is in good standing.
Help Around the World and Lost or Stolen Card Replacement Funds from MasterCard Global Service
Whether you've left your wallet in the airport or are lost in Paris and need to locate an ATM, you can call us 24 hours a day, 365 days a year. We'll connect you with a representative who speaks your language, and can help with:
Safety & Security
Use your card with confidence, knowing you're always protected.
Travel Services
Get around-the-clock coverage, whether you're in Canada or abroad.
Global Access
Make purchases or access your funds, n o matter where you are.
Terms, agreements, rates, and fees
Important Information on
Rates and Fees
Key information about your BMO MasterCard, such as current fees, interest rates, grace period, minimum payment, foreign currency conversion and more.
BMO MasterCard Cardholder Agreement
A detailed explanation of your rights and responsibilities as a BMO MasterCard cardholder.
BMO CashBack Rewards Terms and Conditions
This guide outlines in detail terms and conditions governing your BMO CashBack World MasterCard rewards.
Can't find what you're looking for?
Use our easy to use tools and credit card reward calculators to help you find the card that's right for you and your needs.
Help Me Choose
Simply select the options you want and we'll suggest credit cards to meet your needs.
Compare Cards
Compare up to 4 credit cards details now.
Help & Support
General Credit Card Live Support:
Call 1-800-263-2263
Make an appointment
Lost or Stolen Cards:
Call 1-800-361-3361 from North America,
or call collect 514-877-0330 internationally
Credit Limit Changes:
Call us at 1-866-991-4769 (TTY 1-866-859-2089)
FAQS & Advice
Other Recommended Credit Cards
® BMO Is a registered trademark of Bank of Montreal.
TM BMO Is a registered trademark of Bank of Montreal.
®* MasterCard is a registered trademark of MasterCard International Incorporated. Used under license.
®† AIR MILES is a trademark of AIR MILES International Trading B.V. Used under license by LoyaltyOne, Co. and Bank of Montreal.
®†# IDefence® is a trademark owned by D+H Limited Partnership, used under licence by Bank of Montreal.
TM†# IDefence PlusTM is a trademark owned by D+H Limited Partnership, used under licence by Bank of Montreal.
TM†#CreditDefence™ is a trademark owned by D+H Limited Partnership, used under licence by Bank of Montreal.