Primary Chequing Account
This is the account you'll use every day for things like debit purchases, withdrawals, deposits and bill payments.
Features
Offers free banking with a minimum monthly balance when you choose a Bank Plan2
Write cheques, view processed cheques online and receive images with mailed statement
Available in US dollars21
Access to BMO MoneyLogic™, an online financial management tool that helps you to view, track and manage your money
Overdraft protection8
Securely view and store your account statements any time online with eStatements
Please note that interest is not paid on this account.
Applying for a chequing account?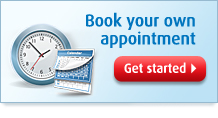 Smart Saver Account
%
Premium Rate Savings Account
%