---
Specialized Lending
---
BMO Specialized Lending provides complete retail lending solutions for the Canadian investment and insurance industries and is an opportunity for Advisors to add value to their practice, without taking on additional work.
Our coast-to-coast team of mobile Lending Specialists handle the complete lending transaction and all of the documentation so you can stay focused on building your business. We offer the most personalized service in the industry. Lending Specialists help you ask the right questions and identify your clients' borrowing needs and debt inefficiencies.
---
---
The difference we make
Simplicity
End-to-end support and execution so you can focus on your practice
Expertise
A team of highly experienced Lending Specialists dedicated to offering solutions to your clients
Trust
We provide services to your clients on your behalf; they remain your clients
Innovation
Lending products that are unavailable to clients through other channels and customized solutions
Value
Competitive offerings and referral fees
Confidence
Backed by a brand that's almost 200 years old with 30 years of specialized lending experience
---
---
Why choose us
We provide solutions so you can devote your time to enhancing your client relationships.
Full range of lending products
Face-to-face mobile support, extended hours, at your convenience
Support and strategies to help you identify and restructure your clients' debt
Review borrowing solutions with you and your clients
Facilitate faster decisions on loan approvals, often within 48 hours
Oversee entire lending transaction, from applications to signatures on final documentation, as well as after sales loan service
---
Our service commitment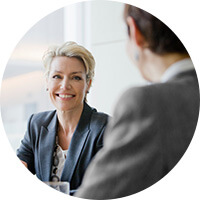 Our Lending Specialists' goal is to provide your clients with the most effective and efficient lending solutions. Their role is to facilitate the entire lending transaction as well as after sales support. Your clients won't be solicited for other products and services by BMO Financial Group1.
---
Our services
We help you provide your clients with the best lending solutions.
News & Insights
Get insights, tips and trends from Your Financial Life
Resources & Downloads
Access fact sheets, case studies, toolkits and more.
---
Our leadership team
We build a strong partnership with you to help provide exceptional service to your clients.
---
---