Cash Flow
Prepare your business for a cash shortfall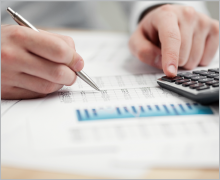 "Be prepared" is more than just a Boy Scout motto – these are also wise words for small business owners to live by. The recent downturn in the economy reminded businesses of all sizes of the importance of being ready for any eventuality.
Having adequate cash on hand and access to credit are key components of that preparedness. The following strategies can help ensure that you have enough cash coming in to get your business through any lean times.
Speed up receivables
An effective way to help prevent a cash shortfall is to make sure that your billing, collections and payables systems are operating as efficiently as possible. Bill promptly, follow up on overdue invoices and, if possible, ask for a deposit when customers place an order with you. Offering an incentive for customers to pay bills early (e.g. a 5% discount) can also help you speed up receivables collection.
Get an operating line of credit
By establishing access to a line of credit before you actually need to use it, you'll have a cash cushion in place well in advance of a shortfall. One of the advantages of using an operating line of credit is that it is a revolving fund source. As long as you continue to pay down the credit line, you can access the unborrowed funds whenever you need them.
Use your business credit card smartly
If used wisely, a business credit card can not only cover many day-to-day business expenses, it can also give you a helpful grace period before payment is due. Make sure to pay off your balance on time, however, to avoid late fees or high interest charges.
Other cash-management benefits of a business credit card include the ability to track business expenses, manage employee spending and earn valuable rewards.
Match your borrowing to your goal
Try to match your financing needs to your business objective. For instance, use term loans for significant capital purchases – such as equipment, vehicles – that will have long-term use.
A credit card or line of credit is better suited to short-term operating needs such as inventory, business travel or equipment repairs. Whichever option matches your borrowing objectives, try to make the necessary arrangements well in advance so that you have the funds you need when you need them.
Consider leasing equipment instead of buying
By leasing equipment instead of buying, you can avoid a big cash outlay and free up those funds for other immediate business needs. As well, your lease payments are tax-deductible as an operating expense, which leaves more cash in your business. Discuss with your accountant whether buying or leasing makes the best sense for your business.
Build a rainy-day fund
Consider gradually putting surplus cash aside in a nest-egg fund to cover unforeseen emergencies. You can even build a contingency fund into your annual budget. An amount equal to three months' worth of payroll could help you avert a cash crisis during tough times.
Contact your branch to help you find more information about how to prepare your business for a cash shortfall. Also, download the following BMO Bank of Montreal® podcasts for additional information: