Earn CashBack rebates on every dollar you spend with BMO MasterCard for Business
Reward yourself by earning CashBack® on every card purchase you make. Since BMO MasterCard is accepted at nearly 30 million locations around the world, your rewards just keep adding up.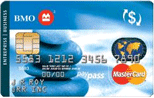 Earn faster with the Premium CashBack card. Earn 1% CashBack on all card purchases, plus get help on the road with free BMO Roadside Assistance ($69 annual fee).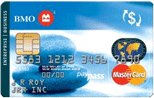 Earn 0.5% CashBack and pay no annual fee.




Every year you'll receive a CashBack rebate on your account. For example, if you spend $12,000 in card purchases in one year, 1% CashBack will give you a $120 credit on your account.