500 Bonus rewards miles. Limited time offer!
BMO® AIR MILES®† MasterCard®*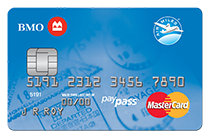 No annual fee.
500 Bonus reward miles1.
(That's halfway to a flight!*2)
Offer valid until May 31, 2013.
Key Features
Earn fast: 1 AIR MILES reward mile for every $20 you spend on the card3
"Double dipping": Collect even more reward miles when you show your AIR MILES Collector Card and use your BMO MasterCard at AIR MILES Sponsors
Free extended warranty and purchase protection4
No annual fee, 19.9% interest rate5
Low Rate Option: reduce interest charges with a 12.9% rate for an additional $45/year6
Zero Dollar Liability: protects you from unauthorized use of your credit card7
Earn 1.25x reward miles at Shell®‡‡ locations in Canada8
Earn 1.5x reward miles9 and get up to 25% off rentals10 at National Car Rental®†† & Alamo Rent A Car®** locations worldwide
Worldwide acceptance at over 30 million locations

*Flights start at 950 reward miles
BMO AIR MILES World MasterCard
Looking for a bigger bonus? Want to fly sooner with a 25% discount on every AIR MILES flight?

Choose 1,0001 Bonus reward miles.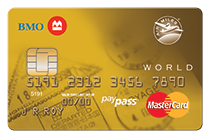 Key Features
Earn faster: 1 AIR MILES reward mile for every $15 you spend on the card3
Exclusive 25% flight discount: Use 25% fewer reward miles when you redeem for any AIR MILES flight worldwide, with no blackout periods11
BMO World MasterCard Travel Protection: Includes coverage for car rental collision damage, plus flight delay and baggage insurance12
Free extended warranty and purchase protection4
$99/year annual fee, 19.9% interest rate5
Low Rate Option: reduce interest charges with a 12.9% rate for an additional $45/year6
Zero Dollar Liability: protects you from unauthorized use of your credit card7
Earn 1.25x reward miles at Shell locations in Canada 8
Earn 2x reward miles9 and get up to 25% off rental10 at National Car Rental & Alamo Rent A Car locations worldwide
Worldwide acceptance at over 30 million locations