Investment Management to help you grow and protect your assets
At BMO Private Bank, investment management is a dynamic process that helps you accumulate, protect and grow your wealth to meet immediate as well as long-term needs. It involves disciplined investment manager selection, rigorous oversight, and evaluation of all asset classes. Our philosophy is to supplement long-term strategic asset allocation with research-driven tactical asset allocation adjustments to add value and capture market opportunities as they arise.

Disciplined yet customizable process
In close consultation with you and your wealth advisor – a personal portfolio manager will use a disciplined, multi-step process to craft a portfolio that reflects your specific goals, risk level and timeframe.
Our investment process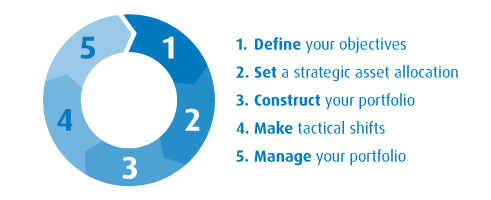 1. Define your objectives

- Time horizon
- Risk profile
- Liquidity needs
- Tax considerations
- Return expectations

2. Set a strategic asset allocation

- Long-term allocation of capital
- Diverse asset classes
- Expected return consistent with risk tolerance

3. Construct your portfolio

- Identify appropriate investments
- Consider your tax concerns, liquidity needs and more

4. Make tactical shifts

- Research-based
- Intended to capture market opportunities, enhance returns or reduce risk

5. Manage your portfolio

- Regular rebalancing of asset allocation
- Comprehensive reporting
- Performance analysis
Open architecture investment platform
Your portfolio can leverage the expertise of our internal investment management teams as well as independent managers.
Traditional equities. Access a diversified selection of large and small domestic and international equities through our proprietary U.S. large-capitalization equity strategy, along with outside equity managers.
Fixed income securities. Our seasoned bond traders conduct credit research and disciplined security selection, and work closely with your personal portfolio manager to develop an appropriate strategy for your portfolio.
Independent money managers. We can help you implement a managed money solution in your portfolio through rigorous asset allocation, unbiased manager research and selection, asset placement and performance reporting.

Featured Case Study: Trusting an Outsider with Your
Portfolio
Trusting an Outsider with Your Portfolio
David and Susan, ages 44 and 45 Three children
IT professionals
Personal net worth: $4.5 million

If you ask me, my wife and I have done a fantastic job with our portfolio. We started in 1994 with $42,000 in tech stocks, and we've grown that—through all the ups and downs—to more than $4 million. This past year, though, we came to realize that managing our careers, our household and our stock portfolio was simply getting too stressful. We wanted to hand over the portfolio to someone with more objectivity and with expertise beyond technology investing, but we were hesitant. Could someone else do as well as we have done? And how much would it cost?

My brother-in-law had raved for years about his wealth advisor at BMO Private Bank, so we gave him a call. At our first meeting, he spent a lot of time asking about our goals, our jobs, our kids and the strategies we'd used to grow our portfolio. After he and his colleague, an experienced portfolio manager, reviewed our portfolio in detail, he invited us back again. He told us about the strengths and weaknesses they uncovered, and pointed out that we were paying more in fees and short-term capital gains taxes than we had ever realized. In the end, the team at BMO Private Bank made several solid recommendations for diversifying our portfolio, and backed them up with statistics on potential performance—the kind of details we needed to make informed decisions.

The team at BMO has truly earned our trust. They're seasoned professionals focused on maximizing our growth without undue risk. Their advice is unbiased and objective. And the service is fee-based, so there's no reason to worry that transaction fees or commissions are driving the recommendations they provide. Before, our cash flow, portfolio and various benefits were all riding on technology. Now, we're getting a higher return with lower risk. That's comforting.