Sales
Top tips to boost sales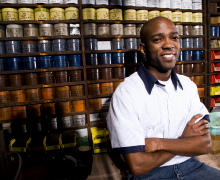 Your customers are key to your success. But how well do you know them? Taking the time to understand your customers, and making it easy for them to do business with you, can help boost your sales and improve your bottom line. Here are some tips to help you along the way.
Get to know your customers
The first step in making any sale – whether to a new or existing customer – is to understand who that person is and what they need. You can track customers' buying habits by researching your sales data on a regular basis – at least once per year – or assigning staff to talk to customers about their buying needs.
This information can also be gathered by hiring an outside market research firm or by sending surveys to your existing customers using one of the many free or low-cost online survey tools available, such as Survey Monkey or Zoomerang®‡ . To improve customer participation in your online surveys, consider offering some type of incentive (e.g. a chance to win an iPod®‡‡, or a discount on their next purchase).
Reward your best customers
It takes more time and effort to find new customers than to retain your existing ones. Acknowledge your best customers by offering discounts to those who refer friends and family to you. Consider offering special rates for clients who bring you repeat business or place larger-than-average orders, or provide incentives when clients reach a specified purchase volume.
Sending personalized holiday or birthday greetings to key customers, or even a simple "thank-you," can also help keep you top of mind.
Sell more to current customers
Look for opportunities to boost sales to your existing customer base, with strategies such as:
Cross-sell and up-sell. Encourage your staff to sell to existing customers a related product or service, such as a warranty, extended service plan or additional items which you think might benefit them.
Bundle products. Include a few products or services together for a special price to entice an existing customer to try some of your other offerings.
Join forces. By partnering with a complementary business (e.g. a candy company with a flower shop) for a special offer, you can expand your offerings to current customers and perhaps attract new ones.
Offer extra information. Make sure that your existing customers are the first to know about new products or services, special offers or any upcoming changes to your business. Social media tools such as blogs, Facebook or Twitter, or even a simple e-mail, can help you get the message out.
Accept payment cards
Another way to help boost sales is to make it as easy as possible for customers to buy from you. Give your customers as many payment options as possible – from cash to debit to credit – and keep abreast of new technologies that can help you offer even more convenient and flexible ways to pay.
Tap into online sales opportunities
Even customers who don't buy online frequently use the Internet to research purchases and businesses. Whether you advertise via online listings, banner ads or your own website, make sure that your online presence is as compelling as your other sales channels. Also, explore the potential of Facebook, Twitter or LinkedIn to connect with existing customers and reach out to new markets.
Develop a marketing strategy
Used effectively, marketing and promotion can boost awareness of your business, along with profits. Deciding which method will work best for your business will depend on your goals, target audience and budget.
For instance, participating in community or charity events and advertising in local newspapers are cost-effective ways to promote your business.
Writing articles for these same newspapers or trade publications is another way to get your name in front of customers and position yourself as an expert.
Download BMO Bank of Montreal® podcasts and Business Coaching Series booklets for additional information. Topic samples include: