Vehicle dealers and leasing companies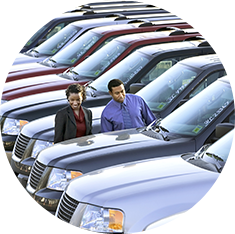 As a vehicle dealer or leasing company, you have specialized banking needs that require a thorough understanding of the industry. After years of experience working closely with the automotive sector, we have developed a suite of customized financial solutions and in-depth expertise that can meet your need for short or long term financing, and other business banking requirements.
---
---
Help me choose a Business Bank Account
We can help you choose with six simple questions.
---
Financing solutions for vehicle dealers and leasing companies
Floor Plan Loans
Seamlessly manage your inventory to meet demand.
Our flexible credit limits1 can help you make sure you have the inventory you need to prepare for seasonal sales spikes
Operating Loans
When you need to finance the purchase of used vehicles, customer receivables or parts inventory
Our operating loans1 can help you take control of your day-to-day business operations
Wholesale Lease Financing
Finance the purchase of new or used passenger vehicles and light trucks
A smart solution when you need to update your inventory of vehicles available for lease
Term Loans
Whether you need to purchase equipment, renovate your premises or upgrade your showroom
Flexible, cost-effective term loans offer the funds you need to finance the growth of your dealership1
Retail Finance Programs
Be the single source for your customer's financing needs
Our programs allow you to offer competitive interest rates and referral fees, plus consistent and prompt loan administration1
Commercial Mortgage
Whether you're acquiring new premises, expanding your facilities or need to refinance or consolidate current debt, our selection of commercial mortgages come with a range of terms, amortization periods and repayment schedules.
---
---
®Registered trade-mark of Bank of Montreal