Protection and Peace of Mind
Having a solid financial plan in place keeps you on track for achieving your specific goals. But a comprehensive financial plan also means being prepared for the unexpected. Whether you're responsible for supporting yourself, or you're a breadwinner with a spouse and children depending on your income to maintain their standard of living, it's important to ensure that you and your family will be protected in case you are suddenly unable to provide for them or yourself. Having the right type and amount of insurance in place goes a long way to providing peace of mind.
It's true what they say. Hindsight is 20/20. However, when it comes to health concerns and insurance, foresight is your greatest asset. It is essential to have insurance in place before health concerns arise to ensure benefits are available to you and your loved ones when they are needed most.
If you're self-employed or own your own business, you're responsible for providing your own insurance coverage. It's vitally important that you take the time to determine your needs and make sure you allocate a portion of your monthly budget to paying for the protection you require.
If you're an employee, start by investigating what types of insurance and what levels of coverage your employer provides. In some cases, the coverage might be enough, but in others, you may want to supplement your group plans with private coverage.
The primary purpose of life insurance is to provide a tax-free lump sum to your beneficiaries to pay off debts or to support your family after you're gone. If you're young and single, your need for life insurance is probably limited. However, once you have children, the amount of coverage you need increases dramatically. When the kids grow up and leave home, the need diminishes again. (See chart below) For this reason, you need to re-evaluate your insurance coverage from time to time as circumstances change. It's not uncommon for people with young children to be seriously underinsured, while retirees may be paying for far more insurance than they need.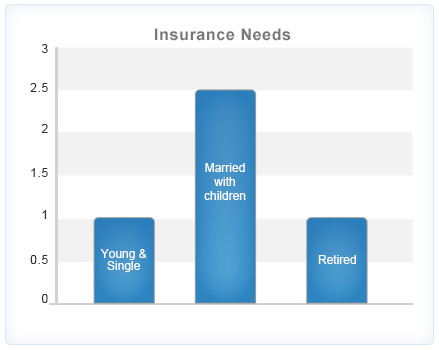 There is another reason to have life insurance coverage. If you own a second property or a large investment portfolio, there may be a hefty tax bill to pay on your death. Life insurance can be used to cover capital gains tax on these assets.
During your working years, the probability of becoming disabled is much higher than the probability of loss of life.1 Do you have the financial resources to support yourself and your dependents if you were sick or injured and unable to work for two or three years? If not, disability insurance can provide you with a regular income should the need arise.
While employer group plans typically provide this type of coverage, it's important for self-employed people and anyone without group coverage to make sure they have adequate protection. When you pay the premiums yourself, the monthly benefits you receive are tax free.
Critical illness insurance is very different from disability insurance. Disability insurance provides you with a regular monthly income while you're disabled. By contrast, critical illness coverage pays you a single lump sum on the diagnosis of specified conditions such as life-threatening cancer, heart attack and stroke. The payment can be used for any purpose at all – paying off debts, funding medical treatment outside of Canada, or paying for private duty nursing care. Having critical illness insurance in place means that, should you be affected by any of the covered conditions, the important goals that you have for yourself and your family can still be met.
Many people assume that long-term care is provided by the government. While it is true that there are government facilities available for people with long-term needs, these facilities provide a very basic level of accommodation. There is also very little choice for those facing a move of this nature. Which facility you move into is dictated by where a spot opens up. Though the wait list is usually very long for placement, when a spot does become available, you have to decide very quickly whether or not to accept it.
Long-term care insurance can provide you with options. Depending on the type of policy you choose, you could use the benefits to pay for home care or to help cover the costs of a private care facility. Having long-term care insurance in place means that you will be able to choose the level of care you want without jeopardizing your other financial goals.
The Bottom Line
Insurance in its many forms is a key piece of your overall financial plan. However, as with your other financial goals and objectives, there may be a trade-off between what you would like to have and what you can afford. We all have to make decisions with regard to our cash flow – how much to commit to saving, paying down debt, and buying the protection we need for ourselves and our families. Looking at your insurance needs along with your other goals will help you determine the best use of the dollars at your disposal.
Your responsibilities go far beyond day-to-day commitments. You need to make sure those who depend on you are taken care of – whatever life throws at you. It's how you defend yourself and those you love from the unexpected.
Helpful tools that may be of interest:
* BMO financial planner refers to Financial Planners, Investment and Retirement Planning that are representatives of BMO Investments Inc., a financial services firm and separate entity from Bank of Montreal.
1Twynham, Mark. "The Importance of Disability or Life Insurance on Your Mortgage." Web log post. BMOSmartSteps For Homeowners. Bank of Montreal, 30 Jan. 2012. Web. 14 Mar. 2012. &lthttp://community.bmo.com/smartstepsforhomeowners/mortgage/financing/importance-disability-or-life-insurance-your-mortgage-0&gt.
close
This video requires Adobe Flash Player. Please click
here
to download.