Financial Literacy
We want to help our customers gain the knowledge, skills and confidence to make responsible financial decisions at all stages of their lives. We are continuously developing customized products and innovative tools to meet customers' needs. Simply put, we're making money make sense.
---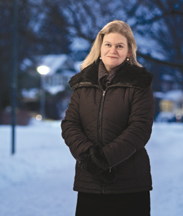 Supporting Financial Literacy

One morning every second month, Lee Kors, Branch Manager at BMO Bank of Montreal in Waterloo, Ontario, takes time from her busy schedule to teach the rudiments of financial literacy to new Canadians. Kors enlightens her students about subjects such as Canada's banking system, how to build a good credit rating and education savings plans. It's but one way Kors gives back to her community. She also volunteers serving breakfast at a local high school, through Nutrition for Learning, and volunteers with the Optimist Club of Waterloo Region. "It's very rewarding to be involved with our community," she says.

BMO strongly supports recommendations of Canada's task force on financial literacy
---
We offer a number of exceptional programs and services to help our customers do better with their money, including:
BMO SmartStepsTM, which provides our customers with tips that can help increase their savings by taking steps such as minimizing banking fees, speeding up mortgage repayment and reducing taxes.
The award-winning BMO FirstHome® Essentials Kit, a step-by-step guide for first-time homebuyers that includes tips, worksheets and an online planning tool that helps prospective homebuyers navigate the complexities of purchasing a home.
Harris-sponsored free Homebuyer Workshops in communities across Chicago.
In 2009, we developed a recession support program that was introduced in areas most severely affected by the economic downturn and subsequently became national. We equipped front-line employees to have conversations with customers faced with job loss who turned to BMO for help. We also developed materials with tips to help customers on issues ranging from improving household cash flow to recovering from financial hardship.
Each April, Harris employees participate in Money Smart Week, an education campaign managed by the Federal Deposit Insurance Corporation. The campaign helps individuals outside the financial mainstream develop financial skills and positive banking relationships. Harris sponsored free Homebuyer Workshops in communities across Chicago.
For more information on BMO's programs, go to our Personal Banking website.
Back to top

---
BMO is a corporate member and sponsor of the Aboriginal Financial Officers Association of Canada (AFOA), AFOA provides education and training programs to help Aboriginal peoples better manage and govern their communities and organizations by enhancing financial management practices and skills.
For more about our programs in Aboriginal communities, go to BMO's Aboriginal Banking website.
---
To help prepare and support newcomers to Canada, BMO has developed a multi-language program, the BMO Newcomers to Canada Program, with information about BMO financial products and services. We also provide information about starting a business, buying a car, sending money home, investing, and being a student.
---
BMO Financial Group can help you prepare for your retirement with a few basic planning steps. We conduct workshops on the subject across Canada and in Chicago. The BMO Wealth Institute continues to be a recognized leader, conducting research and offering advice on critical retirement issues, setting goals and having a strategy for meeting your retirement objectives.
Back to top

---
BMO developed TFSA Essentials to provide information about the Tax-free Savings Account (TFSA). The TFSA is well-suited to seniors as it has no impact on eligibility for benefits such as Old Age Security.
---
BMO Business Essentials packages, which help business customers take the complexity out of choosing the right banking products.
BMO Business Coach podcasts and brochures. More than 90 podcasts are available to customers, in English and French, on topics ranging from business writing to building media relationships. BMO podcasts have been downloaded over 100,000 times, ranking in the iTunes®3 Top 100 downloaded business podcasts.
---
BMO's Head of the Class podcast series explores financial matters for students across Canada. Hosted by Lesley Scorgie, author of Rich by Thirty: A Young Adult's Guide to Financial Success, and founder of Rich by Inc., she chats with university students, digging deep into what they think about our current economic state, their financial plans and what they think the future holds for them.
For advice and tools for students, go to BMO's student banking website.
Back to top

---
BMO is the official sponsor of The Learning Partnership's Entrepreneurial Adventure (EA) program in Canada. An experiential learning opportunity that turns ideas into reality, EA brings students and teachers from kindergarten to grade 12 together with business partners to create ventures that benefit their local communities. Each year, BMO employees participate as business partners for this innovative program.
BMO employees volunteer their time to participate in YourMoney, a program launched by the Canadian Bankers Association and the Financial Consumer Agency of Canada. This program delivers non-commercial classroom seminars on the financial information that matters to young people, including budgeting, saving and investing, credit and borrowing and keeping money safe.
---
Research on financial literacy
Banks can do a better job of helping Canadians understand their personal finances (BMO Financial Group, 2008).
Two-thirds of young families say they should have a better handle on personal finances (BMO Financial Group, 2008).
---
National Task Force on Financial Literacy
On June 25, 2009, the Honourable Jim Flaherty, minister of finance, announced the establishment of Canada's Task Force on Financial Literacy.
The task force fulfills a commitment made in Canada's Economic Action Plan to outline objectives, including a concrete plan of action and a framework for collaboration among stakeholders, for moving forward and measuring progress on financial literacy in Canada. Members of the task force are drawn from the business and education sectors, community organizations and academia. The task force will be chaired by Donald A. Stewart, chief executive officer of Sun Life Financial Inc.
L. Jacques Ménard, chairman of BMO Nesbitt Burns, will be the vice-chair.
View press release from BMO.
For more information on Canada's Task Force on Financial Literacy, please visit: www.financialliteracyinCanada.com.